Nashville Predators: We Can't Become Fair-Weather Fans This Season
This might rub some people the wrong way, but this has to be said. Don't prove the critics right and become fair-weather fans this season.
Perhaps the Nashville Predators have spoiled this fanbase, including myself, over the past decade when it comes to regular season performance and making the playoffs. Let's be honest, we're not accustomed to seeing the Predators struggle throughout the regular season.
The Predators have been mainstays in the playoffs for a while now. They've made the playoffs five-straight seasons after missing it back-to-back years before Barry Trotz was let go. Now there's been a changing of the guard again at head coach with John Hynes coming in.
This is the first time in franchise history we've had a midseason head coaching change. It's uncharted territory, and we as fans are usually waiting for the playoffs to get here and not worried about the playoff bubble. This bubble is about to burst for the Predators if things don't change quickly.
Are we spoiled as fans?
I'm including myself in this discussion. I've been a Nashville Predators fan since their first game in 1998. A season when we were just happy to have a professional sports team and we were still learning the basic rules of hockey, aside from fighting.

Nashville Predators
Predlines

Nashville Predators' UFAs: Should They Stay Or Should They Go?
We waited five seasons to see this team make the playoffs, and then another five seasons to win a playoff series. As those things got checked off the list, our expectations as fans steadily grew, and rightfully so.
Now we've seen this team nearly reach the peak of success. Two wins shy of a Stanley Cup, and it's been a gradual decline since. But we don't know how to deal with this paranoia of not even making the playoffs. Not with this Predators team that has a stacked roster and the attention of the national media.
This is why fans are losing their minds this season with frustration over how the Predators are playing. We know just by looking at the players on the roster that they should be playing much better.
It's hard to explain why it's not translating to better success on the ice, and that's why fans like myself are so upset.
What the Predators fans brought to the Winter Classic just over two weeks ago was incredible, and the whole league took notice. It was a crushing loss on the national stage, and I feel like it was back-breaking for a lot of fans when it comes to hopes for the rest of this season.
It's been a very long time since I've heard Bridgestone Arena as quiet as it was in the demoralizing loss to the Ducks last night. There was no energy or confidence from the fans. It was like we were waiting for them to fail. Like it or not, this does rub off on the players.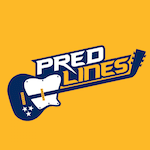 However, when the players don't seem to be bringing the energy of their own, this becomes a two-way street. The most diehard fans are going to show up and support this team until the final home game of the season, and those are the best fans out there.
But we could be entering territory that we haven't been in for several years if the Predators keep stumbling down the stretch. How will fans respond if the Predators keep fading? Hopefully they'll show everyone that they can stick with them through the rough times as well.
How should we respond
I'm really hoping that Bridgestone Arena continues to be a hot ticket for Predators games and that fans don't quit on the team. Many around the league think that Nashville fans are bandwagon fans left over from the Stanley Cup run. We can't let the narrative become that Predators fans are fair-weather fans, and not true hockey fans.
Things might get uglier before they get better. But that's what happens in sports. Teams don't stay on top forever, and they certainly go through rough times that can last several years. Hopefully the Predators can make some trade deadline moves and salvage this season, but don't become the fair weather fans, Nashville.
The Predators have treated us to 12 playoff appearances in the last 15 seasons. That's as an expansion team! It's perfectly understandable to want more, but that is still an incredible accomplishment that shouldn't be glossed over.
It worries me a bit how quick fans are to throw this team in the garbage after they start looking bad during the regular season. Half the league's fanbases would trade for our last 15 years in a flash.
With all of this said, there's nothing wrong with criticizing the team for falling short of expectations. That's your right as a fan that spends money on tickets, merchandise and invests your time into caring for this team. However, channel that energy into showing up to the games and showing the rest of the NHL that this isn't a fair weather fanbase.
There's still a lot that has to be played out this season. The Predators could absolutely flip a switch and go on a crazy run, add a few pieces before the trade deadline and make the playoffs. But if they don't, stick with your team through the hard times that have been scarce compared to many other fanbases around the NHL.