Nashville Predators Check-Ins: Former Goaltender Chris Mason
With no games to watch, Nashville Predators fans are looking for any sports-related content to satisfy their cravings, including catching up with alumni!
Many look to social media to fill that hole that's missing in their sports lives. Let's take a look at some of our favorite Nashville Predators' social media posts.
One of my favorite "follows" on social media is Chris Mason, former goalie for the Nashville Predators. Mason spent most of his time playing for the Predators on throughout his 11-season NHL career.
The 43-year-old from Red Deer, Alberta, Canada was drafted 122nd overall in the 1995 NHL Entry Draft. He racked up 59 wins for Nashville between the pipes and posted a respectable .910 save percentage.
How can we forget the insane goaltender goal that Pekka Rinne scored earlier this year? Well, Mason actually did it first for the Predators franchise. Mason accomplished the extraordinary feat in April 2006 to be just the ninth goaltender in history at the time to do it.
Me looking at the @PREDSident's how many days left until the season starts tweet this morning. 🙋🏻‍♂️ #30Days @PredsNHL pic.twitter.com/GAR4fCT5hU

— Chris Mason (@cmace30) September 4, 2018
What's Chris Mason up to these days?
In 2015 Mason hung up the goalie pads and joined the Nashville Predators as a radio color commentator. Today he is the television color commentator for the Predators along with play-by-play announcer Willy Daunic.
His knowledge of the game and his energetic commentary makes Mason a fan-favorite. He and Willy Daunic play off of each other well and Mason's in-game commentary is very entertaining and informative.
Vintage Arvi Hustle! 🙌🏒🔥 https://t.co/xIEMHxQ7pM

— Chris Mason (@cmace30) March 3, 2020
Why is Mason A Great "Follow" On Social Media?
Mason does a great job of connecting with his fans. He posts to social media almost every day and the content is very entertaining.
One thing that makes Mason so awesome is his ability to make others laugh at his own expense. Check out this public service announcement from "Sheriff" Mason regarding the pandemic.
⭐️⭐️ PSA from your Sheriff ⭐️⭐️ pic.twitter.com/jpWKe4NeEb

— Chris Mason (@cmace30) March 29, 2020
Also, check out his "trade alert" that came out when Emergency Backup Goalies were all the rage back in February.
🚨TRADE ALERT🚨

The Nashville Predators have acquired the rights to Christoph Roberto Masoni in exchange for a lightly used #Preds zamboni gravy boat.

Although he has not seen a single minute of action in 5 years he is apparently very happy & great dressing room guy. #Confirmed pic.twitter.com/Fr9coVs6Zq

— Chris Mason (@cmace30) February 24, 2020
But More Importantly…
Mason was not born in Nashville, but he loves his community and the fans. He posted this tweet when Nashville was hit by devastating tornadoes on March 2nd and 3rd.
None of us were born here but Nashville is our home. It is truly inspiring the way this city comes together as one when people are in need. 💛 #NashvilleStrong | #VolunteerState | @PredsAlumni https://t.co/XA4ol4w0b4

— Chris Mason (@cmace30) March 4, 2020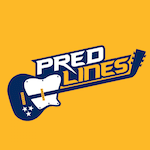 Last but not least, Mason is a family man. Being a father of daughters myself, this is perhaps my favorite Tweet of all.
Played hockey my whole life. My daughter Quinn had no interest.

Coached the @NWHL All-Star game last year in Nashville w/ my girls & the players were so awesome.

* get in car after the game

Quinn: Dad?

Me: Yeah?

Quinn: I want to play hockey.#HockeyIsForHer @NHLonNBCSports pic.twitter.com/4pcGvnuLik

— Chris Mason (@cmace30) March 9, 2020
So if you're looking for an entertaining social media follow check out @cmace30. You won't regret it.
Whenever NHL hockey does eventually return, we should all feel fortunate as Nashville Predators fans to have Mason as one of the main analysts covering the team locally.
You can check out Mason and the rest of the local broadcast crew throughout the season on Fox Sports Tennessee with pre-game and post-game content as well.