NHL: Return-to-Play Plan has Worked Flawlessly on Nearly Level
It really is astounding to see hockey games actually being played, and seeing the NHL's complex plan actually being a reality in the two bubble cities.
Many were skeptical back when the NHL announced their plan to return to action with four different phases, quarantining, mass testing and the selection of the right hub cities.
Remarkably much of the NHL's plan has gone on without much of a hitch. The league deserves a ton of credit for how everything has been executed, and how player safety has been paramount in everything.
Something as simple as seeing staff members sanitizing the arenas immediately after an exhibition game is refreshing to see. Yes, the NHL is a business and wants to maximize it's revenue. But they're also doing so with extreme caution and keeping safety as the most important factor in all of this.
Tons of credit owed to NHL
The NHL announced no new positive COVID-19 tests following the completion of Phase 3 and the next step of going to the hub cities of Edmonton and Toronto:
NHL statement on COVID-19 testing results: pic.twitter.com/5dObzonFWA

— NHL Public Relations (@PR_NHL) July 27, 2020
This encouraging news comes right around the same time that another major sports league, Major League Baseball, is dealing with their own challenges of not having a bubble environment to have a better hold on possible outbreaks.
Over 4,000 tests to more than 800 players, and not one positive test result. This is a huge testament to how well the NHL has performed a plan that I was weary about when it was first announced by NHL Commissioner Gary Bettman back in late May.
Now two months later, and the NHL has their 24 teams in two hub cities, while the players appear to have some pretty awesome amenities to keep them entertained and comfortable in their bubble environments.
Wall-to-wall hockey for your viewing pleasure
The 24-team playoff format had its critics early on, but now it's become pretty popular. The re-seeding of each round is very smart, and giving the top-four teams in each conference a round robin tournament to sort out the top seeds made total sense.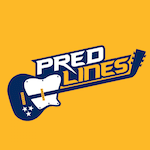 There are some really fun and entertaining matchups in the qualifying round, like the Oilers/Blackhawks, Canadiens/Penguins, and Predators/Coyotes.
Wall-to-wall hockey, like March Madness in college basketball, is going to be every diehard hockey fan's dream scenario. I expect ratings to be much higher than they've been in a long time for the Stanley Cup Playoffs. It might even grow the sport even further to the more casual fans, or even brand new fans looking for a new sport to get into.
Tricky negotiations between the NHL and NHLPA could've tripped things up as well, but both sides came to terms without much drama. The same can't be said about some other sports leagues.
And how about the arenas and how they've been set up? We're not going to just be looking at empty seats, but instead flashy video screens, home team's goal horns and artificial crowd noise:
The stages are set #StanleyCup
➡ Scotiabank Arena in Toronto
⬅ Rogers Place in Edmonton pic.twitter.com/7eE4peXBW6

— NHL (@NHL) July 26, 2020

It doesn't replace the excitement of real fans in the arenas, but the NHL has done an outstanding job at finding the best alternatives.
The NHL hasn't always been great at hanging with the other major sports leagues. They've made plenty of questionable decisions that has sometimes suppressed the growth of the game, but that's a debate for another day.
In terms of the NHL's plan to get back to hockey and crown a 2020 Stanley Cup champion, they've done just about as good of a job as you can expect. Better than any other major sports league when you factor everything into it, with the most important factor being player and personnel safety.
Exhibition games are already underway, and the actual "playoffs" begin on Saturday. The NHL's work isn't finished, but they've put the league in a great position to fully complete the 2019-20 postseason by early October, while still having an 82-game 2020-21 season.
I'm sure we'll have more things to criticize Bettman and the NHL over in the future, but for now, they deserve a lot of credit for constructing a complex and complicated plan in near-perfect fashion.
For more information regarding COVID-19, please go to CDC.gov or follow your local health guidelines.