Nashville Predators Could be a Potential Fit for Jakob Chycrun
The Nashville Predators keep outperforming preseason expectations, and it's natural to wonder if they're going to be in the market for any big additions in the trade market.
As the Arizona Coyotes continue their downward spiral farther into the NHL's basement, they are further and further looking to dismantle their current team in hopes of starting fresh. The latest development involves Jakob Chycrun, who has been recently rumored to be on the trade block.
Chycrun, who is 23, has four years — including this one — left on a very reasonable $4.6M per year contract, and is coming off of a 2020-2021 campaign in which he scored an impressive 18 goals and had 23 assists in 56 games. His stats have taken a huge dip this year, but how much is that really due to him as opposed to the team around him?
The Nashville Predators are a transitioning team that should be very selective about adding players to their team, if they do so at all. But would at least kicking the tires on Chycrun be worthwhile?
Nashville Predators should explore the possibility of adding Chycrun
As has been established, the Predators are not in win-now mode and cannot afford to add aging players who may not be effective or even around for more than one or two years. But none of those concerns apply to Chycrun.
Chycrun is a very skilled player at both ends of the ice and has yet to enter the true prime of his career. He is still under contract for several more years, and by the time the Predators are once again ready to contend for a Stanley Cup, there is no doubt that he would be a core contributor.
The Coyotes say that they are hoping for a sizable package in return for Chycrun, but with them being as poorly managed as they are and voluntarily putting his name on the trade market, it is doubtful that they would get the package they want.
The price that the Predators would likely have to pay to get Chycrun would not be enough to jeopardize their future in the slightest.
Additionally, the Predators already have a major logjam of defensemen on their current team and throughout their system, and as cool as it is to talk about all of their futures on the team, not all of them will be able to play at the same time. Why would anyone want assets that they are unable to use?
The Predators could turn some of those assets into a player such as Chycrun, who would be a difference-maker in the present and in the future.
If Predators General Manager David Poile opted to trade some of Dante Fabbro, Alexandre Carrier, Frederic Allard, Jeremy Davies, and a depth player such as Rocco Grimaldi to the Coyotes for Chycrun, that would be very much worth it.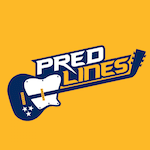 This is not to say that the Nashville Predators should absolutely make it a priority to add Chycrun, as there is nothing wrong with just wanting to let your own youth develop as you go in a new direction. But if the right opportunity arises, they might be hard-pressed to turn it down.