Nashville Predators: What Will a New Yakov Trenin Deal Look Like?
Offseason news may be quieting down, and while the offseason is certainly not over, there is still a bit of news on the Nashville Predators front.
Yakov Trenin, who is due to have an arbitration hearing in August, still needs a new contract. As reported by Elliotte Friedman, the Preds want to offer Trenin a two year, $1.35M AAV contract, while Trenin is looking for a shorter deal, at $2.4M for one year.
Arbitration filings for Yakov Trenin (NASH) — Team is 2x$1.35M, player is $2.4M on a one-year deal.

— Elliotte Friedman (@FriedgeHNIC) July 31, 2022
What Kind of Deal Will Trenin Sign?
The Nashville Predators clearly want to sign Trenin for more than a year, while it seems "The Yak" wants a shorter deal to keep his options more open.
Trenin has been vital in developing the identity that this Predators team now has, and also is not a bad depth scorer, with 24 points in 80 games on "The Herd" line.
It would behoove the Preds to get a deal done that works for both sides before the arbitration hearing.
Trenin is due for a pay raise, coming off a contract of $700K during the 2020-21 season and $750K from the 2021-22 season.
A deal around $1.75-2M for a term of 2 years would make sense. This would give him his well-deserved raise, as well as lock him up for the foreseeable future.
Hopefully Trenin and his camp will reach an agreement before his arbitration hearing, which is scheduled for August 2. Only time will tell where this all falls into place.
What Will "The Yak" Bring to the Nashville Predators Next Season?
Trenin is an identity player. He's hard on the puck, tenacious, and doesn't give up on a play very easily. His aggressive forechecking is one of his standout abilities, and that's something you need on a roster like this.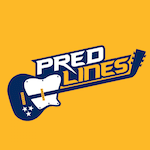 Trenin also brings quite a nice shot to the third line, and loves to go to the net. With how the Preds' system is constructed, his effort to put himself in the blue paint is vital to the Predators' success next season.
Signing Trenin is a must, as he has plenty of chemistry from playing with Colton Sissons and Tanner Jeannot. Those three together combine for an aggressive forechecking and tenacious line that never gives up.
Without Trenin, a vital piece on the third line is lost, and it will show on the scoresheet.
Like I said before, Trenin never gives up on plays. He has gone coast-to-coast on purely his own individual effort. A great example of this is a goal scored during a matchup with the Anaheim Ducks on November 22 and, wow, just look at this individual effort:
Trenin was vital during the 2020-21 season in helping the Nashville Predators find their identity. He will continue to be vital as an identity player and a depth scorer.
While the wait is on for a new contract, I can see the Preds finding common ground with Trenin's camp. Without Trenin, you lose a vital piece to the depth of this team and a player who is relentless while on the ice.
The Nashville Predators have become a better team this offseason. Now, they need to take care of business to really make sure this offseason is as successful as it is shaping up to be.