What to Watch from 2022 Nashville Predators Rookie Camp Next Week
The future of the Nashville Predators franchise will be on full display next week as rookie camp will open, with prospects including Yaroslav Askarov, Luke Evangelista and Juuso Pärssinen headlining the list of attendees.
This rookie camp roster is loaded with promising talent as the prospect pool has gradually improved over the years thanks to smart drafting over the last four drafts.
As part of rookie camp will be the always highly-anticipated Prospect Showcase, which this year will be held in Raleigh, North Carolina. The Nashville Predators prospects will face prospects from the Carolina Hurricanes, Tampa Bay Lightning and Florida Panthers.
Prospects to Watch at Nashville Predators Rookie Camp
There are a few prospects at this year's rookie camp that have strong chances to crack into the NHL lineup at some point in 2022-23. Leading that list is Pärssinen. A powerful forward who is effective on both ends of the ice, and is expected to get his first full season under his belt in North America this year.
Pärssinen should be a standout at rookie camp and in the prospect showcase, and if the Predators get ravaged by injuries in the regular season, he's high up the list to get a call-up.
On the defensive side of things, we can't overlook Marc Del Gaizo. He brings offensive upside to his game which makes him very enticing to get an NHL opportunity soon for the Predators.
A 2019 fourth-round pick by the Predators, Del Gaizo is a tad undersized at 5'10", but he makes up for it offensively. Look for him to have a strong camp and really stand out among the defensemen.
Another defenseman that just keeps getting better and better is Luke Prokop. I'm looking for him to really be a leader in camp and show off his progress. He had a very impressive season in the WHL for the Edmonton Oil Kings last year, including 16 points in the WHL playoffs.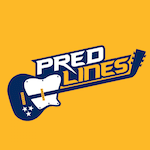 Speaking of players that should not only stand out, but also look like leaders out there, Egor Afanasyev should look extremely comfortable out there and show coaches he's making significant progress in his path to the NHL.
Then there's Yaroslav Askarov, arguably the top goalie prospect in the world. He's finally made it over to the states and will now get a springboard in his development by getting more ice time with the Milwaukee Admirals than he was in the KHL.
Askarov already looks right at home and has a fun personality that fans are falling in love with. Seeing him in his first game action at the showcase in a Predators uniform is going to be awesome to finally see.
Luke Evangelista put up video game numbers in the OHL last season with 111 points in 62 games. As elevates to the AHL level where defense will be much tougher to score against, you should have tempered expectations with how he looks at camp. He's making a huge jump in competition and it may take time.
Finally, there's also some prospects attending that weren't originally drafted by the Predators organization. Jimmy Huntington is a left winger that was acquired back in February in a trade with the Tamp Bay Lightning that sent Anthony Richard in a one-for-one swap.
Huntington was productive for the Admirals after the trade by putting up 23 points and has most of his experience in the QMJHL spanning back to the 2014-15 season. Don't discount him looking good in camp and elevating his stock.
A full list of the Rookie Camp roster can be seen here at the Nashville Predators official team website.
An Appetizer to Training Camp
Some of these prospects will also attend training camp, and a few of them have an outside chance of actually earning themselves a spot on the NHL roster before the regular season opens less than month from now.
This is a huge next couple of weeks for this prospects to further their journey towards one day playing in the NHL. It's a very difficult road, but a strong rookie camp and training camp can change the life of these young players.
Training camp for the Nashville Predators will be interesting to watch because there are newcomers on the team that need to find their spots within the lineup, and the depth needs to be sorted out, especially on the fourth line.
Nashville Predators Training Camp will open September 21 along with five preseason games, including one against SC Bern in Switzerland. They'll open the preseason slate on September 26 against the Panthers, followed by a back-to-back against the Lightning.
The 2022-23 regular season opens overseas on October 7 as the Nashville Predators will take on the San Jose Sharks from Prague, Czech Republic in back-to-back games.
Check out our full breakdown of the 2022-23 Nashville Predators schedule.