Nashville Predators: Do-or-Die Time in Game 5 Against Dallas Stars
This Nashville Predators team always seems to play its best when it's in desperation mode. Let's hope that trend continues in Game 5.
There's no sugarcoating the notion that the Dallas Stars have outplayed the Nashville Predators for all but about a game and a half. Pekka Rinne stole Game 3 from them, and an overtime Game 2 win could've gone either way. But we can't focus on the what-ifs. The Predators remain in a good position heading into the next game. This team has to get angry again. They need to come out embarrassed by their performance in the last game and put on a show for their home crowd.
In my original series prediction I had Game 5 as the critical game to sway this series one way or the other. I'm sticking with my prediction that the Predators win this game and take the momentum back to Dallas to close it out. These seven-game series are about counter punches, and the Predators have taken plenty of counter blows from Dallas. Now it's time for the Predators to deal out the punches, and I refuse to believe this talented team full of veterans are going to lie down at home.
My biggest concern is no longer the Nashville power play. I've given up on that long ago. They can still win this series without the power play. Getting past the next round without a useful power play is a different story for a different day. However, the Predators have to obviously clean up the sloppy penalties. They basically hung Rinne out to dry in Game 4 taking four penalties before we could even sit down in front of the TV and open our first beer. It should be a simple fix for a roster full of players with plenty of playoff experience. They can't let one goal snowball into more penalties and more Dallas goals. That was Dallas' best shot, and I don't see Nashville allowing that to happen at home in Game 5.
Formula for success
As horrendous as Game 4 was, it still counted as just one loss. The Predators settled down after that first onslaught and played much better the rest of the way. You can say the Stars took their foot off the gas a bit, but there is something to build off of. The anecdote is pretty simple when you think about avoiding that fate again. Play disciplined hockey and don't give the Stars back-to-back power play opportunities. Constantly killing off penalties early in a game wears your team down early and keeps your goal scorers from creating their own high-danger chances because they're too focused on playing defense.
Rinne has had a solid series aside from Game 4. His teammates did him no favors with the penalties, and he was chased for Juuse Saros. I have full confidence that Rinne will not let that game linger into the next. He'll be locked in and the team's focus will be on playing better in front of him. I'd be more worried about a younger goaltender letting Game 4 spread to the next game, but not a battle-tested Rinne. He's not the issue in this series.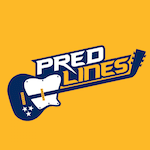 Finally, we need the JoFA line to wake up. Two measly points from Filip Forsberg, Viktor Arvidsson and Ryan Johansen is incredibly bad, and it's a miracle that the Stars haven't really capitalized on it and taken more control of the series. You tell me that stat going into this, I'm predicting a Dallas sweep. Yet we find ourselves with the series tied and Nashville with home-ice advantage, and depth production has offset some of it. Peter Laviolette credits Dallas' defense for neutralizing the top line, per Robby Stanley of NHL.com:
I think just the team defense from Dallas that we're going up against has been pretty stingy with what we're trying to do and what we're trying to create.
My bold prediction is this line wakes up and has a strong game. Johansen has a couple helpers and Arvidsson gets his first goal of the playoffs.
We really need these two back, especially Boyle. His size, physicality and presence on power plays can't be understated. He played a big role in the series before being knocked out with an appendix issue. Simmonds has been more underwhelming since being acquired by Nashville at the trade deadline, but he's another big presence in front of the net that is sorely needed. Both players were full participants in the Friday team practice.
Laviolette has some lineup shuffling to do if one or both of these guys return to the lineup for Game 5. Rocco Grimaldi has earned his spot in the playoff lineup and should be here to stay. Miikka Salomaki might be the odd man out if Boyle gets back in the lineup. I have less confidence in Simmonds playing in Game 5. Here is the projected lineup for Game 5 from the team's official website:
Forsberg-Johansen-Arvidsson
Granlund-Sissons-Jarnkrok
Watson-Bonino-Smith
Boyle-Turris/Gaudreau-Grimaldi/Salomaki
Josi-Ellis
Ekholm-Subban
Hamhuis-Fabbro
Game prediction and where to watch
I'm not ditching my original series prediction now, despite an ugly showing in Game 4. The winner of this game takes the series, so I'm going Nashville with a 4-2 win on the back of a breakout from the top line. It's their time to shine and return to how we're accustomed to seeing them perform. Rinne also has a bounce-back game and makes a few more spectacular saves, and Nashville takes much-fewer penalties.
You can catch the TV broadcast nationally on NBC at 2 P.M. Central. The radio broadcast will be on 102.5 The Game with Pete Weber and Hal Gill on the call. Postgame coverage can be seen on Fox Sports Southeast, hopefully covering a Predators win.