Weekly Mailbag: Nashville Predators at Fork In The Road for Game 5
Nashville Predators fans took to twitter to ask questions about the team going into Game Five of their first round series against the Dallas Stars, and we have answers.
If you have any dire Nashville Predators questions that need to be answered and would like to be featured on next week's rendition just tweet your question @PredlinesNSH or email me at colbydguy1@gmail.com
This weeks rendition will feature questions about this afternoon's matchup against the Dallas Stars, as well as some other questions about the team's future.
What does it take to get guys in front of the goalie? I understand that the puck hurts, but everyone is so good that most scoring is just picking up trash.
-Mont Pewitt (@MontPewitt)
That's a great question, Mont. Usually it depends on the type of player and the size of the player as far as who usually does the dirty work in the front of the net. My prime example of a guy like this is Anders Lee of the New York Islanders.
He's a big guy who can body away defenders and establish a presence at the front of the net. We haven't really see a guy on the Nashville Predators do this to the extent Lee has, and he has
obviously reaped the rewards of this play style as he
was a 40 goal scorer a year ago.
The Preds need a guy like this, whether a guy on the roster steps up and starts trying to create a net front presence, or if they decide to go after Anders Lee, who is an unrestricted free agent, in the offseason if he decides not to return to Long Island.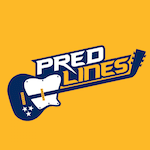 What do you think the Nashville Predators will do with Simmonds in the offseason?
–Ty Carpenter (@willtycarp)
To segway off from the last question, I think that the Nashville Predators should cut their losses and let him go to unrestricted free agency
because he was a failed experiment.
The Preds tried acquiring him to be that net front guy who can generate goals, but instead he turned into an overpaid fourth liner. The Preds did have to give up a lot for Wayne Simmonds, but I think they might as well take the loss on that trade now before they pull an Edmonton Oilers.
Simmonds reminds me of Milan Lucic, who was one of the most skilled power forwards in the
league up until his departure from Boston, as well as his lone season in Los Angeles which caught the eyes of the Edmonton Oilers who decided to pay him lucratively, giving him a seven year deal worth $6,000,000 per year.
This scenario seems all too similar to that of Lucic's so if I were David Poille, I would let Simmer go, another silver lining for this would be that it would open up a roster spot for Eeli Tolvanen, who I am very high on.
Now that we've reached the halfway point of the questions we've been sent, let's appreciate this adorable dog photo one of our fans sent in.
If I chase been bishop will it give us better luck?I hear he taste like burnt chicken pic.twitter.com/x9tex9HvEd

— IamLordStanley (@Iamlordstanley1) April 20, 2019
That dog will clearly be the Nashville Predators MVP in this playoff series, what an adorable pup. Reminder if you have any dog photos you are always welcome to tweet those at us, because we love seeing them support the Preds.
Assuming the Nashville Predators make it to the second round, who would you rather see them play, the Jets or the Blues?
–Jeffrey Martin (@jeff_sdhs99)
That's a great question, Jeff. Both of those two teams are great, so it definitely isn't about picking the easier opponent for me, because neither of those teams could be considered easy.
I would go with the Winnipeg Jets, just because Preds-Jets games are always the most fun to watch and I would love to see a rematch of last year's second round series.
The Jets are an exciting team to watch, headlined by Patrik Laine and Mark Scheifele offensively and with talent like Dustin Byuglien on defense and a solid netminder in Connor Hellebuyck. Plus I'm a huge fan of the whiteout and that fan base is insanely loud.
The most interesting part of that series would be gauging which arena is louder, Bridgestone Arena or Bell MTS Place, but I have faith in you guys that you can put the Preds on top of that debate.
How loud will Smashville be today?
–Colby [very nice name] (@ColbyGlover17)
Let's see, it's a Saturday afternoon game on a holiday weekend, which should be great motivation for the Nashville Predators fans in attendance, not to mention it's a playoff game, so I would have to say it's going to be absolute bedlam today.
Only thing that could prevent that from happening is if they play the same way they played on Wednesday night in Dallas and don't show up, then he fans might be a bit quieter.
What can the Nashville Predators do to win today?
-Evan Clark (@bigefsu)
Well first of all, the offense is going to have to show up, because they've been seemingly missing all series, more specifically the top two lines.
The offensive intensity has been way down, so the Preds need to raise their tempo if they want to overpower the Stars tonight.
The Stars have been shutting down the Preds top guys all series, so much so that the Predators have had to rely on Rocco Grimaldi as their best forward this series This proved to be a disaster on Wednesday night, when they fell 5-1 to the Stars.
They looked collectively awful as a unit in Game 4, so they're going to need to come into this game with a different outlook if they want to win this one.