Nashville Predators: Ryan Ellis the Unfortunate Expendable One
An inevitable change to the roster is coming for the Nashville Predators. Who is expendable is up for debate this offseason.
There are some extremely tough decisions ahead for Nashville Predators GM David Poile in the coming months. He has to figure out a way to mold this roster back into a top contender and reverse the course it's been going down over the last two seasons. Truth be told the Predators have performed well-below expectations for two-straight seasons now.
I'm on record of saying the Predators front office has to avoid overreacting and tearing down the roster too much. I still believe the core of this team is good enough to be right back in the thick of things in 2020. However, a big move or two is probably necessary. Deciding how that's going to work, and who should be moved, is Poile's biggest item on the offseason agenda. I don't envy him.
These decisions are always tough, especially when you're dealing with a roster that has for the most part remained intact for a few seasons now. This team still has a lot of the same key players that went to the Stanley Cup Final and came up just two wins short of bringing a championship parade to lower Broadway. A key player will have to be moved for the Predators to make the changes necessary, and Ryan Ellis makes the most logical sense.
Why it makes sense
In a perfect sports world for us Predators fans we wouldn't be having this conversation right now. Instead the Predators would be living up to expectations and be competing in the Western Conference Finals. That was the preseason bar they had to reach for me to consider this season successful. Going out in six games in the first round is a major failure, and we can point the blame to multiple areas.
When I look at how this roster can be tweaked, I'm looking for players with big contracts that have hit their ceilings with their current team. Ellis fits that mold for me. It doesn't mean I think his career is over or that he can't find success somewhere else. We've seen plenty of former Predators players have success on other teams. I just have the belief that Ellis' time with the Predators has run its course. He looked a step slow in the playoffs defensively, and his offense isn't so luxurious to the point that we can't find someone else to do the same thing.
Ellis has a cap hit of $6.25 million next season and has a lengthy contract that runs to 2027-28. One of the rumblings of this idea of moving him is that the ink on this contract is still practically drying. Is that a bad look for the Predators organization for other potential free agents? Maybe to some, but anyone with a functioning brain should understand that this is the nature of the business. It's not like the Predators already have a bad reputation for doing players wrong. But in this case, sometimes you have to make a difficult choice to make your team's long-term future more viable.
Several teams should have interest in Ellis and what he brings. Not every team is loaded with defensive talent like the Predators have been over the years. He may be expendable to the Predators due to the depth at the position, but some teams could sorely use a player like Ellis. Several potential trade partners should be out there.
I realize that Ellis had a solid season in terms of offensive numbers. The Predators have always had skilled defensemen on the offensive side. It's a nice luxury to have, but it's not what this team is missing. What the Predators have always needed is scoring forwards and centers that can ignite the offensive zone. Players who can be counted upon to avoid long scoring slumps and be good for 30-40 goals per season. So many teams are loaded with players like this. As for the Predators, not so much. They have nice pieces like Craig Smith, Colton Sissons and Calle Jarnkrok, but these guys are more of role players than players who can take over games and even playoff series.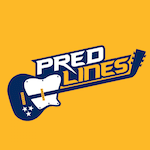 Even in a down year for the defensive core of the team, I'm still not of the belief that this is the problem area of the roster. It's the lack of offensive consistency and scoring depth. Too much pressure has been put on the top line, and that has to change to really complete this team. Ellis is a great offering that could entice a team to give up an offensive scorer.
Who would replace Ellis?
Dante Fabbro, who appeared in his first ten NHL games last season, is the obvious choice here. Even though it's a small sample size, he passes the test for me as being ready to elevate his role with the team. I'm excited to see him develop into a top-four defenseman for the Predators next season.
Fabbro is currently playing in the 2019 IIHF World Championships representing Canada. He's playing well, alongside his Predators teammate Kyle Turris. Fabbro has a power play goal to his credit in one of Canada's wins. Tell me that's not a welcome sight to see success from a Predators player on the power play. That's an area that clearly has to be addressed by Peter Laviolette over the offseason. Figuring out what went wrong and if the right players are on the power play unit. Here's a look at Fabbro's power play goal:
👀 @17Fabbro with the slapper from the point! #IIHFWorlds pic.twitter.com/3xasfhUjXW

— Team Canada Men (@HC_Men) May 12, 2019
You also have prospect Alexandre Carrier,who could finally make his return to the Predators lineup at some point next season. He's amassed a lot of meaningful experience with the Milwaukee Admirals, among other minor league teams. The Predators have options if they want to move on from Ellis in return for adding an offensive weapon to the second line. They need scoring depth at the forward position much more than they do trying to hold onto all of their defensemen.
What we really need is for another defensive prospect from Milwaukee to emerge. Carrier leads that pack for me, but he's become more of a staple in the minor leagues and has never been able to stick on the Predators roster. He has just two NHL games played since being drafted in 2015, but he is coming off of a 39-point effort in his debut season for Milwaukee. Perhaps he gets another opportunity in 2019-20 to become a fourth-line defensemen for Nashville.
It's hard to part ways with fan-favorites, and Ellis has certainly been that in his time with Nashville. However, I believe it's time to move on and chalk that contract extension up as a swing and a miss for Poile. He hardly ever misses, but this one is one of his few that I can recall. There are teams out there who could really use Ellis more than the Predators can. Hopefully in return the Predators can get a power play specialist and a player with 40-goal potential.