Nashville Predators Waste No Time Finding New Head Coach John Hynes
Less than 24 hours after firing head coach Peter Laviolette, the Nashville Predators have found his replacement and third head coach in franchise history.
John Hynes has been named the new head coach of the Nashville Predators, and just the third in the franchise's history. He was just recently fired by the New Jersey Devils back in early December.
This news comes as a pretty shocking development to already add to a pretty wild last 24 hours. I'll be the first to admit I didn't think the Predators would pull the trigger on firing Laviolette until things got much worse, or they were officially eliminated from playoff contention.
Hynes comes in with a pretty extensive track record for his relatively young age. He's just 44-years-old and managed to coach the Devils to a playoff appearance in one of his four full seasons there. However, this season saw the Devils nosedive to the bottom of the league, and Hynes was let go.
No time wasted
GM David Poile decided to avoid going the interim coach route and grab who he wanted swiftly. The Predators do have a game tonight, and it was odd that no interim head coach was named as the late hours of the night rolled in.
At that point we knew something would be announced in the morning, and I was still expecting an interim tag to be handed out to someone. But that didn't happen, and my thought is Hynes was Poile's guy all along.
Hynes has a very successful coaching track record from the AHL, coaching five seasons and making the playoffs in all five of them. He's developed a lot of great players over the year, most notably the coaching of Taylor Hall in New Jersey.
By getting Hynes as their new head coach, the Predators are getting a guy with a solid reputation of developing talent. He's a player's coach who can hopefully come in and develop all of the talent the Predators have currently in their farm system in the future.
As for the current roster, hopefully he can maximize the potential of star players who maybe haven't hit their peaks yet. The Predators have a blend of veterans and young players still growing their games, so Hynes should be a good coach for that.
Did they rush into the hiring?
My only reservation about this hiring honestly has nothing to do with Hynes himself. The Predators really needed to make sure they get this hire right, and maybe going the interim route to allow more things to develop would've been the more conservative approach.
You never know who could come available as the days and weeks unfold. How much better will Hynes instantly make the Predators over an interim head coach? That's the question you have to ask yourself.
The Predators are just five points out of a playoff spot right now, and with games in hand over teams ahead of them. They can absolutely make a run at it, and hopefully this bold coaching move will ignite a fire under a team that has been so wildly inconsistent.
Hynes maybe got let go way too soon in New Jersey. You can certainly argue that as many of New Jersey's problems are deeply rooted and not all can be fixed in just four seasons, especially when they did show glimpses and made a playoff appearance.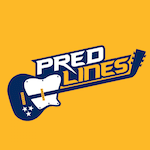 Now the Predators are hoping one team's trash can be their treasure. We don't really know how this feels as Predators fans as this is just the third head coach in franchise history. It's odd territory to be in, but no time to relax. The Predators can still make the playoffs with their new head coach, John Hynes.
Weclome to Smashville, Mr. Hynes.