Nashville Predators: Filip Forsberg Needs to Catch Fire in Second Half
No one is saying that Filip Forsberg is having a bad season for the Nashville Predators. The question is should he be producing even more?
Filip Forsberg is arguably the most offensively skilled player on the Nashville Predators. You can throw Roman Josi into that discussion, but the point is that Forsberg is talented enough to be scoring 40-plus goals a season like many other players are doing in today's NHL.
Forsberg missed a few games due to injury early in the season, but he's played in 38 games and spent most of his time on the top two lines despite all of the line shuffling throughout. He's got 15 goals and 16 assists.
His production isn't anything to scoff at, but I firmly believe he's capable of much more. As one of the leaders of this team, he should be at or near the same efficiency level that Josi is performing at. The Predators need that from him in the second half of the season.
High expectations for Forsberg
This is being said out of the utmost respect for Forsberg. He has borderline elite potential to become a top scorer in the NHL. He has a deadly wrist shot, knows how to handle to puck to create scoring chances and has been in this league long enough to evolve his game.
By ordinary standards, Forsberg is having a pretty solid year. However, for me he can elevate his game even more and really make whichever line he's playing on one of the best. I personally want to see him playing with Matt Duchene every single game once the Predators get Colton Sissons back in the lineup.
One of Duchene's biggest strengths is making his linemates better and setting them up for success. His line when Forsberg is on it has been very successful this season and they came out blazing to start the season before the Predators went into a tailspin in November. Keep them together when possible.
My radar is focused on Forsberg and if he can up his production over the final 38 games of the regular season. If he mirrors his production from the first half and avoids injury, he'll finish with 30 goals and 62 points, which is right around his career average.
Can he find a hot streak?
Now that the team is getting more settled in with new head coach John Hynes, I think we could be primed to see Forsberg find a hot streak. It starts with seeing his power play production increase closer to what he did two seasons ago with 13 power goals and 21 points. He has four goals on the power play this season.
The Predators are trending back in the right direction since Hynes took over. The team is playing smarter and more locked in defensively. It's a small sample size, but things look much better early on. Now we need Forsberg to reach his full potential, which is getting more shots on goal and becoming an unstoppable force like Josi has been.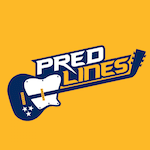 Forsberg's shooting percentage as of now is the lowest it's been since 2014-15F when he played his first full season with the Predators. I have to believe that number is going to naturally increase and get back up to around 14 or 15 percent. That should lead to a more efficient scoring rate.
This isn't an indictment on Forsberg having a terrible season or letting the team down. My expectations are just very high for a player that has elite potential like Forsberg has. I had him scoring 40-plus goals going into the season, but it looks like he's likely going to come up short of that.
Call me crazy, but I actually smell a hat trick coming for Forsberg at some point in the remainder of the season. He's had seven in his career, with the last one coming in October 2018. He's due for another one soon.
Forsberg is about to go on a surge under a new head coach as this team is looking to charge back up the standings. They need their star veterans to step up and lead this team, and Forsberg is one of those guys who has all the skills to go on a scoring surge and get the Predators back into a playoff spot.