Nashville Predators: Exploring a Possible Trade for Dustin Byfuglien
There has already been some interesting moves days before the trade deadline on Monday. Is there anything left for the Nashville Predators to explore?
Many are in agreement that the Nashville Predators probably aren't good enough to make a realistic run at the Stanley Cup this season, assuming they even sneak into the playoffs.
The Predators have some assets to offer teams, including several draft picks in the upcoming draft. They can make a move, but the worry is overpaying for a player that might just end up being a rental.
You never want to mortgage your future for a player who is just going to end up being a rental, but that's the risk you take anytime you make a trade deadline move.
Defenseman Dustin Byfuglien remains an enticing alternative for the Predators as they need blueline help desperately before I peg them as any realistic threat in the playoffs.
The Winnipeg Jets have been trying to possibly terminate Byfuglien's contract, per Frank Seravalli of TSN, for not reporting to camp and dealing with a nagging ankle injury. It's been complicate matter for both parties since then.
However, as I mentioned earlier, a move like this would be high up on the risk meter. Byfuglien hasn't played all season, and there's no guarantee he'd even report. We have no clue if he's ever going to be close to being the impact player he once was.
How he could help the Predators
If somehow the Predators could get him to play again, he'd provide a huge boost to what they're lacking in power play weapons, penalty killing, forechecking and physicality.
Assuming the Jets are desperate to get what they can for him, the Predators can probably offer a late-round draft pick for him and nab him for cheap considering what he might bring to the ice.
The Predators need to do something. They can't just sit on the sideline and go forward with what they have, particularly on defense. Even when Ryan Ellis eventually comes back, I still don't think that's enough.
Simply making the playoffs isn't good enough for me. We need to be thinking bigger than that, obviously. What can the Predators do to make themselves a dangerous playoff team? Take a risk and sign a potential impact player for their defense.
If signing Byfuglien doesn't end up working out, then I don't think the loss will be that big. Perhaps you lose a late-round draft pick that had no guarantee to start with, and you terminate his contract.
If he does end up playing for his new team, and is revitalized in a new situation, I believe he'd be a huge boost for a playoff team that needs that extra punch on their blueline.
Is it realistic to happen?
On a scale of 1 to 10, I'll put the probability of the Predators making a move for Byfuglien at a two. The more and more I think about it, I'm feeling like GM David Poile is going to stay put with what he has.
The Predators have already passed on making any kind of press towards trade block players like Brenden Dillon, Alec Martinez and Dylan DeMelo who have already been snatched up.
The market is running dry, and the Predators seem content to stay where they're at. I'm hoping that's not the case because my belief is the Predators will be a first-round casualty to the tune of losing in five or six games with this current roster.
Of course this move could blow up in your face, but that's the case with any trade deadline move to a degree. At the very least, it's worth exploring if you can get him for a late-round pick and nothing more.
Byfuglien is now on TSN's top-ten trade bait list as talks are intensifying that the Jets are looking at all opportunities to find a trade partner. Are the Predators one of those potential partners behind closed doors?
This is by far the most interesting story to follow leading up to the deadline that doesn't have a ton of starpower.
Who knows if Byfuglien will ever play again, but I want the Predators to at least look into it and gauge the possibility of getting an impact player to boost their defense, get a goal scorer, a fiery competitor and someone who I'm sure is hungry to get back on the ice if he's in the right situation.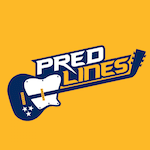 Byfuglien has 66 career playoff games and has scored 21 goals and 29 assists on those games with the Blackhawks and Jets. He also has six career game-winning goals in the playoffs.
Why not the Predators? A team that has the talent to go deep, but needs another piece or two that has the skill set of Byfuglien.