Nashville Predators: How Do We Fix This Troubled Power Play?
After working on Nashville Predators player grades and such, I wanted to cover something that was and has been an overarching problem for this organization.
I had a few options; the lack of star forwards and stunted offensive development, the constant need to trade assets for centers, or the concerns I have about John Hynes and GM David Poile moving forward.
All of those seemed really negative, which I feel like is too often the brand of sportswriters, so I opted to go the route of constructive criticism and talk about how you could go about fixing something that is and has been wasted (oh no, we got negative pretty fast there).
Let's talk about how stupid the Nashville Predators have been when it comes to running their power play, and what can be done to change that.
Identifying the problem
The Predators have always employed units with three forwards and two defenders with the man advantage. Many would look at that and say, "well, when arguably six of the top-ten skaters in your history are defenders, you would tend to do that."
I fundamentally disagree with this sentiment, but not for the reasons you may think. With the right personnel and deployment, a two-defender power play can work; the issue has, and always will be that having two defenders on the ice seemingly precludes Predators coaches from using them effectively.
As we've seen in years past, the two defenders are employed as the primary option for shooting, and the power play usually sees the majority of the shots coming from way downtown in an attempt to generate rebounds or put pucks through traffic.
Old heads might say that's a perfectly respectable strategy, but I dispute that for a couple of reasons. Let's get into why.
One: Consistency Is Impossible
Something we often overlook when it isn't presented to us in sports is the value of consistency. Any Capitals fan would tell you how awesome it is to know that on any given power play, Alex Ovechkin has a great chance to score, and they know exactly how he's going to do it.
Hitters who get on base constantly in baseball garner that same kind of respect. In hockey, the only way to create that consistency is to devise a system where you're always taking the highest danger chance presented to you, aka looking to take shots in close and predominantly pepper goalies from the slot.
The other key to consistent production and reliable chance generation is making sure that you get the goaltender moving side to side before you take your shot from in close.
Anyone who watches hockey knows that the best way to get a guaranteed goal is to slide a puck cross-crease for a one timer; this physically observable idea is embodied in what I've said above.
So, why do the Predators not consistently score? The answer is simple: having defenders take shots from as far away as possible isn't a consistent, reliable way to generate goals.
This power play strategy doesn't help as much with useful rebound generation as you'd think, either; you're essentially limiting the players who have a chance to score whenever you rely on a point blast to create a rebound, and even then, the goalies of today's league can swallow many of those attempts.
But what about traffic in front? Again, that's not something you can rely upon to get you a goal upwards of 20 percent of the time across a season. Point shots thrown in traffic can bounce any which way, and while you have a chance to get a really good shot in close, you could also have just handed the opposing team possession and wasted precious time off of your advantage.
Why include more variables and make scoring even more of a dice roll or roulette than it already is? It just doesn't make sense, and it doesn't work as a result.
Two: You're Wasting Talent, Dummy
It was one thing to employ this strategy when David Legwand was your "star forward," but come on now; we've got Filip Forsberg, Matt Duchene, Mikael Granlund, Ryan Johansen, and an admittedly erratic Viktor Arvidsson in your forward corps.
The fact that the main goal of the power play hasn't simply been "get the best goal scorer by far in franchise history on your team open, then let him dunk on nerds" since Forsberg lit the world on fire as a rookie is frankly absurd.
This was even the case when James freaking Neal, a guy brought in specifically for his elite shot, was still a key piece on this team.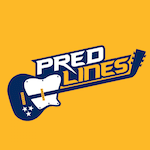 Part of the reason literally every talented forward who has ever come to Nashville takes a dive in production (with the exception of Paul Kariya and Steve Sullivan, gods that they were) is that the power play renders them perimeter pieces with little incentive to attack and be focal points, lest they get benched.
No, the Predators are content to have Arvidsson do ridiculous jump screens and let Forsberg try to function as a pure passer.
— Gin & Juuse (@GinandJuuse) May 14, 2020
Let your shooters shoot, let your big bodied, pass-first centers do their thing, and please, for the love of everything in me, don't waste the incredible mobility, skill, and hockey IQ of Ryan Ellis and Roman Josi by relegating them to guys mostly hanging out at the blue line. It's a waste.
Three: You No Longer Have The Personnel
If we're talking about a few years ago, I'm all about running two defenders per unit, so long as we change the usage of the players themselves.
P.K. Subban being here in his prime versus essentially a rookie Dante Fabbro makes a massive difference. Subban in his prime was a skilled skater and had flair to complement his shot; if you give him more freedom to roam and make plays, I'm more than comfortable having him and Ekholm on the second unit.
The issue here is that Fabbro shouldn't be within spitting distance of an NHL power play for a team trying to win a championship in the present moment for some time.
While a decent shot/chance suppression player at 5v5, Fabbro absolutely cratered the offense whenever he was on the ice, posting abysmal xGF/60 and CF/60 at even strength and on the power play.
So, it didn't make any sense to run two defenders on the second unit, complicating things even further. You have plenty of talented forwards; if Ekholm is able to avoid being a key cog of a power play unit where he's relied upon for entries (as the Predators so often do with their defenders), do that instead of shoehorning him in.
Four: The Entry/Exit Methods Don't Work
I'm all for Josi being the focal point for entries and exits; as I've often discussed, he's among the best players in the league at that.
What I cannot for the life of me understand is why the primary choice for an entry is to dump the puck. WHY NOT USE THE TALENT YOU HAVE IN WAYS THAT THEY'RE GOOD AT?
The answer is simple; there's no good reason. I'll get to how entries and exits in a redesign of this unit would work, but to put it kindly, dump and chase doesn't ever work better than a possession based entry at 5v4. It can work for a heavy forechecking team at 5v5, but on a power play you're just taking even more time to establish zone possession and get your system/cycle humming along, in addition to giving the opponent an opportunity to take the puck from you (similar to shooting through traffic).
So, the power play is currently a mess
In the organization's 21 complete seasons, the Predators have only had the top-ranked power play once.. What do we change to fix this?
Well, there's a lot to solve. I think I'll start by talking briefly about a general shift in mindset, but after that I'll give a few example system changes to get across what I'm thinking, and explain why they could help the team.
General Changes
The focus of the 2019-20 power play, and every power play for the foreseeable future, should be to get Forsberg into scoring position and feed him pucks in the slot area.
Forsberg is the only player on this team who I can confidently say will always have plus shooting ability, and his addition capabilities in boxing out opposing players and dangling around them makes him the obvious primary threat on the man advantage.
Defenders need to become positionless players, and only one should be on each unit; this maximizes the usage of the considerable ability Ellis and Josi can bring, while giving opportunities to more effective offensive players than Ekholm.
Controlled entries and high-low puck movement are fixtures of the new structure choices, with Josi running entries on the first unit and Duchene running them on the second.
All net-front presence will either be improvised in response to game situations, or will function as picks to open up the slot.
Lastly, under no normal circumstances should pure defensive players be used on the power play, such as Colton Sissons, Fabbro, or even Ekholm.
Creating a Basic System: Personnel
4 forwards, 1 defender.
First Unit:
FW1: Filip Forsberg
FW2: Mikael Granlund
FW3: Ryan Johansen
FW4: Craig Smith
D1: Roman Josi
Second Unit:
FW1: Viktor Arvidsson
FW2: Matt Duchene
FW3: Nick Bonino
FW4: Kyle Turris
D1: Ryan Ellis
Creating a Basic System: Entries
So, we've picked our two players for entries and transition play to be Josi on PP1 and Duchene on PP2. I based this largely on my own eye test of who was best in transition, but also on the fact that the two were by far the best in this respect by Corey Sznadjer's microstats.
So, how exactly are we getting them to carry the puck up the ice without turning it over? It isn't a rigid system, but the general idea is something like this:
We're running a modified double-swing method of entry, where the defender is supposedly the primary puck carrier but isn't responsible for the actual entry itself. In a typical case, you have the three forwards going up ice while the defender weaves through center before passing to an open forward entering along the wall.
The issue here is that most of the forwards have trouble managing this kind of play, so we have to modify the order of operations a little bit. Instead of looking to get open, the job of the forwards is to set light, moving picks and open up the middle of the ice for Josi to carry it in to the low boards, before he can start the cycle.
Duchene does the same before rotating into his power play role as the primary distributor. Your secondary option if the opposing players get past the picks is to pass to the man they just left open, getting a free zone entry.
This requires your puck carriers to be skilled playmakers, but I trust Duchene and Josi could consistently execute a mid-level difficulty pass with regularity in this position. This is the general entry structure the team would be running.
Creating a Basic System: Structure When Established
So, we're in the offensive zone; now what? Well, instead of bombing away from the point, we employ a more effective collection of set plays and outlined structure.
Basic Set Play: Overload
So, Josi carries into the offensive zone through gaps created by Forsberg and Johansen. What is everyone doing now? Well, the opposition will settle into their box, while the Predators set up to cycle and run a few set plays.
Looking back at the beginning of this season, Dan Lambert and Peter Laviolette said they made a concerted effort to fix the power play, and for the first few weeks it really showed. What was the difference maker?
Well, I isolated it to one set play; the slap-pass slam dunk, AKA a modified right side overload formation. What am I even talking about? Let's break it down.
So, I read my recaps from games between the second game of the season and the overtime collapse against the Flames, AKA where everything started to fall apart and Lavi threw the new-look system out of the window.
In those 13 games, I found positive mention of this set play 17 times, and found 9 times that it created a powerplay goal. Let me provide a video to illustrate what exactly I'm referring to:
Is that a satisfying play or what? After the Calgary game, Laviolette completely moved away from this new tactic and went back to his old, ineffective, and comfortable system, which contributed to the case for firing him among other things.
This play is what you build your power play on, whether it be with Forsberg or Arvidsson.
Let's go over the basics of what a different version of overload powerplay looks like, and add that to that video's version to give some variety.
What does an overload powerplay look like?
The idea is to stack on side of the ice with more players (3 vs 2) and create situations where the defenders have to break the box in order to prevent chances. We're going to look here at one of my favorite sets of the overload, with a nice diagram courtesy of IceHockeySystems.com, a website run by Denis Savard that I'd recommend to anyone wanting to learn more about this stuff.
— Gin & Juuse (@GinandJuuse) May 15, 2020
So, looking at that, we can see a setup being run. As Savard describes it, "When F2 gets the puck, they carry it behind the net. F3 needs to position themselves between X2 and the net. Their goal is to open up a passing lane across the goalie crease for F2 to pass to F1.
They also make it difficult for X2 to challenge F2 as they come out from behind the net. Usually F1 is able to sneak in behind X1 as they watch the puck. However, if X1 takes away the pass to F1, then F2 keeps the puck and shoots."
This is an ideal situation for a speedy winger or someone who can box others out and has a quick release, IE our FW1 picks in Forsberg and Arvidsson. I'll quote a few other versions, but the personnel remain the same.
For another one (diagram not shown, it doesn't match the description), Savard says, "In this option, F2 sets up behind the net with the puck. F1 & F3 set up just below the face off dots making sure there is a lane to receive a direct pass from F2. F2 needs to read where the penalty killers are commiting.
If one of the penalty killers pressures behind the net it makes it easy to find an open player in font. Most likley the penalty killers will get caught looking at the puck at some point. D1 or D2 can take advantage of this and slip in to the slot when the penalty killers backs are turned.
This is a very hard power play to defend. It requires help from the penalty killers up top in order to even up the match ups down low. The key is to have your best playmaker set up with the puck behind the net and place two of your best shooters near the face off dots."
Here, you rotate some of the personnel; this can be your tertiary set. The idea here is that you want to have multiple options among set plays and personnel units that you know will work, so you can run a version of a unit with Johansen, Arvidsson and Duchene on it, or Duchene, Forsberg and Granlund.
It gives Hynes, and any other coach, immense flexibility and a way to adapt to other teams' style of play.
Conclusion
I don't think it's too hard to fix this power play, and by extension give this team a massive scoring boost. You need to shift around some players and get them more comfortable in rotational roles, sure, but at the end of the day, the pieces are there.
Players who have been elite power play producers elsewhere are already in the lineup, so you can't really deny that. It's time to bring the power play out of the Stone Age and build something that can reliably score or at least generate momentum and energy in the building with a high danger chance or two.
Time will tell if the Predators actually implement something like this under Hynes (who seems to be more open to system changes) or if they'll continue bashing their heads against the wall. One would hope it's the former.