Nashville Predators Mock Draft: Seth Jarvis is the Easy Pick
Mock drafts are always fun to throw around, and for this year's NHL draft class there's lot of intriguing prospects for the Nashville Predators to look at.
There's more uncertainty than normal leading up to the 2020 NHL Entry Draft due to the season pause and the league trying to come up with a playoff format.
It's more than likely that the draft will be conducted before a Stanley Cup champion is crowned, and will also be held similar to how the NFL did their draft.
As for the Nashville Predators, they need to boost their offensive weaponry in their prospect pool. They have some high-quality defenders coming up, and a couple highly regarded centers, most notably Philip Tomasino.
With that said, the Predators are below average when it comes to scoring wingers and speedy puck handlers. That's why I made this selection on behalf of the Nashville Predators in the FanSided NHL Mock Draft.
Predators take speedster Seth Jarvis
In this mock draft the Predators had the 17th overall pick. Luckily this draft class is very deep with offensive weapons to the point that the Predators are going to have a few slide back to them.
Here's to hoping Seth Jarvis is one of those. He's my top choice for the Predators assuming some of the biggest prospects in this draft will already be long gone.
At the 17th pick, getting Jarvis here could end up being a huge steal of the draft. Much like we're starting to regard Tomasino is a big steal of last year's draft.
When it comes to Jarvis, he's got that sniper ability you want in a scoring winger. He can move the puck effortlessly down the ice and generate offensive rushes all on his own.
Jarvis has been playing for the Portland Winterhawks of the Western Hockey League. This is an up-and-coming league that's starting to produce some great NHL talent. Jarvis has the skills to join the club.
The thing about Jarvis is he isn't just a flashy offensive player. He can play a strong defensive game as well and isn't afraid to get into the dirty areas to force mistakes.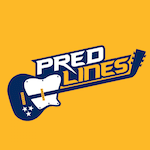 Another thing to love about Jarvis is he's self-accountable at this young age. He identified that he wasn't focused on the right things early in the season, and then he flipped a switch and really started producing on a very high level.
These are all the qualities that the Predators are lacking an abundance of at the moment. They need more players like Jarvis in their prospect pool.
We wrote about Jarvis surging up draft boards after an outstanding second half of his season. If more teams become prisoner of the moment, then it's possible that Jarvis is taken in the top half of the first round.
Can this pick become a reality?
The probability seems fairly high that the Predators get an opportunity to take Jarvis. With his upside, there's always a chance that another team falls in love with him more and takes him considerably higher than projected.
Jarvis has been widely considered a midway first-round pick to even falling back into the second round, which leads me to believe the Predators will have a chance to draft him.
The more I think about the idea of drafting Jarvis, the more I fall in love with this pick. He's just what the Predators need in their prospect pool, and he's not a guy that's going to need too long to develop in the minors.
So I went with Jarvis at 17th overall, but my backup pick if Jarvis is already taken would be Hendrix Lapierre or Connor Zary.