Nashville Predators: A Rejuvenated Viktor Arvidsson Badly Needed
No one really knows how the players and teams like the Nashville Predators will handle returning to playoff action. Some players might come back refreshed.
With the NHL and the Nashville Predators getting closer and closer to returning to the ice, you can't help but wonder how some players will handle this odd situation.
As it pertains to the Predators, they have plenty of talent. That's never been the main problem, and is probably why Peter Laviolette was relieved of his coaching duties back in January despite taking his team to the playoffs every year.
To avoid coming up short in the postseason again, they need a lot of things to reverse course into a positive direction. One of them is fan-favorite Viktor Arvidsson.
I want the old Arvy back
We all know what Arvidsson can do by flipping the ice, crashing the net and playing a much bigger type of game than his physical stature would lend you to believe is possible.
But Arvidsson was a shell of his former self this past season after being injured controversially by St.Louis Blues' Robert Bortuzzo.
I'm not getting into the dirty hit, but I will say that Arvidsson never looked the same afterwards. Maybe more so than any other player on the team, this pause could benefit him.
I just have a hard time believing that Arvidsson is already on the decline at age 27. He can remain a reliable 30-plus goal scorer and a top-six forward on most teams.
You can argue that defenses are figuring out Arvidsson's game to a degree, but not to the tune of this big of a decline. He can still push defenses back on their heels and create odd man rushes regularly.
A telling stat for Arvidsson's decline is his team's xGF, or expected goals for, while he's on the ice at 5-on-5. It dipped dramatically from his previous three seasons, telling me that something just wasn't clicking.
Coming back against a stingy Arizona Coyotes defense first, the Predators are going to need certain players to come back stronger than ever. Arvidsson is in the group of players.
Arvidsson will be rejuvenated
The optimism is high for me that Arvidsson benefits big time from having some time off to reflect and get even more healthy. I just don't think he was 100 percent healthy after returning to the lineup, and his numbers show that.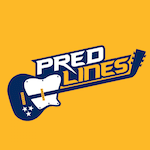 Not just Arvidsson's numbers, but his demeanor on the ice looked different as well. Just not a lot of confidence and conviction in his play that I'm accustomed to seeing.
Arvidsson is all over my radar for players to focus on in training camp that's expected to open on July 10 in the next phase of the NHL's plan to return.
If Arvidsson, along with a handful of other veteran Predators, come back refreshed then they'll get past Arizona in the qualifying round. It's the next round that has me skeptical of their chances of advancing further.
A refreshed Arvidsson will make players around him better, too. Being on the top line with Ryan Johansen is my vote, but the third player to solidify that line is up for debate.
I'm ready to see Arvidsson flying all over the ice again and see that whacky smile he throws out there after scoring a goal. I won't be surprised if we see that in Game 1 against Arizona.