Nashville Predators: Postseason Training Camp Primer and What to Watch For
Here's something I would've never guessed to be planning for as the Nashville Predators get ready for a July postseason training camp. Welcome to 2020.
It still seems so far away despite the Nashville Predators returning home to start small workouts, and an actual postseason training camp just days away.
The last game the Predators played was against the Montreal Canadiens back in mid-March, and that now feels like an eternity ago. This truly feels like we're starting a brand new season, even though the 24 remaining teams are being thrust into playoff action for the Stanley Cup.
The Predators are a team loaded with veteran playoff experience that should benefit them, but they also still have glaring weaknesses that have to be addressed in this training camp period that's set to open July 13.
And don't look now, but we have an official date for the first game against Arizona in the qualifying round, per Thomas Willis of the Nashville Predators media team:
From the NHL: The #Preds and Coyotes will face off in the Qualifying Round starting August 1.

— Thomas Willis (@TomAWillis) July 6, 2020
What's on my training camp radar
I want to see how the goaltenders look first and foremost. It's going to be an intriguing battle between Pekka Rinne and Juuse Saros to see who starts in Game 1 against Arizona.
The team can't get off to a rocky start because it's just a five-game series, so the margin for error is razor thin. Saros was playing excellent hockey before the pause, but Rinne has the vast amount of playoff experience and is now refreshed.
You can make arguments to start both, so it'll be interesting to see which way Head Coach John Hynes decides to go. It's a major decision for him to make as he gets to finally mold his new team for a deep playoff run.
Hynes came into a rocky situation to say the least back in early January. The Predators somewhat shockingly relieved Peter Laviolette of his duties, and Hynes had to stop the ship from sinking. He did that, but the high expectations remain for a team that's come up short in the playoffs the past two years.
The perceived stars of the Predators that didn't play up to expectations will need to quickly lock in during training camp to try to reverse the trends they were on during the inconsistent regular season. Players like Matt Duchene, Ryan Johansen and Viktor Arvidsson.
Who knows what to really expect
We've never seen anything quite like this. Every sports league is going about it their own way, and now it's the NHL's turn to actually get players into action. They've been steadily making plans to return for a couple months, and now the plan really goes into effect with the implementation of Phases 3 and 4.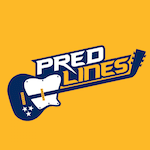 I'm not going to pretend to know with certainty which team is going to handle this the best. These players are all humans and going into a challenging situation. We might get some clarity on how the teams look in training camps, but nothing will be certain until teams actually start playing games starting August 1.
The expanded playoff rosters are worth keeping an eye on as well. One player in particular I want to see get some action on the power play is Eeli Tolvanen.
I've loved the improvement I've seen from him with the Milwaukee Admirals right up before the stoppage, and his sniping ability could be largely beneficial to a struggling Predators power play.
I do know that the Predators have the talent on the roster to hang with anyone. They also have that dark cloud hanging over them of being an erratic team that you never know what to expect from. Multiply that times 1,000 with the current scenario in the hub city of Edmonton.
Another important note is that statistics from the qualifying round will be counted as 2019-20 Stanley Cup playoffs statistics. With there never being a qualifying round before, I was interested to see how they would group these statistics.
There's cautious optimism that everything continues to move forward without much of a hitch. The 2020-21 season has already been delayed, but a timeline for that has been released as well.