Nashville Predators: Offseason Moves Have To Happen
A frustrating Stanley Cup Qualifier series ended the Nashville Predators' hopes of bringing home the Stanley Cup and drew a turbulent season to a close.
Now that the season is over, the Nashville Predators have some big decisions to make. Decisions that will decide whether or not the team fades into mediocrity or remains a playoff contender.
The hopes were high that they could make a deep playoff run this season. A frustrating regular season saw erratic play at critical positions, lackluster goaltending, and a mid-season coaching change.
An early exit from the Stanley Cup Qualifiers finally puts this tumultuous season to rest. An abbreviated offseason lies ahead as the NHL wants to start next season in December.
Now that the season is over, we can start talking about things that the Predators must address. If they are to have any success in the future, things need to change.
The series against the Arizona Coyotes brought to the forefront some reminders of the issues the team had struggled with all season.
While we saw some flashes of brilliance from some of the core players, we also saw some glaring examples of what's wrong with the Predators.
What Shouldn't Happen
Lot's of sports aficionados say that this current Predators team should be dismantled. That's not going to happen.
First off, some of the contracts that these players have are long-term and for large amounts. This makes it difficult to make huge moves. Lack of production from some players would make trades difficult as well.
Secondly, there is a core group of players that have, in my opinion, redeemed themselves or have played great all season.
Roman Josi and Ryan Ellis are golden. The Predators have one of the best defenders in the NHL in Josi and a top-five defender in Ellis. These two are the leaders of the team and one of the best defensive duos in the NHL.
The next group is the JoFA line. If it weren't for Filip Forsberg, Ryan Johansen, and Viktor Arvidsson, the Coyotes would have swept the Predators in the Stanley Cup Qualifiers.
It can be argued that Johansen should be traded. He had a bad season by his standards. Lots of players have bad seasons. He made the necessary mental adjustments during the pause and played well in the qualifiers.
If this new look Johansen can maintain his playoff performance for an entire season, he'll cement his place on the roster for a long time to come.
What Does Need to Happen
Several players are free agents at the end of this season. Mikael Granlund and Craig Smith are the top two.
The Predators need to let these two walk at the end of the season along with the rest of the free agents, except Colin Blackwell and Yakov Trenin.
Blackwell and Trenin showed lots of promise in their limited appearances with the Predators. There's a good chance that both get elevated into the everyday lineup next season.
Granlund has never really fit in with this team. He has had his moments, but overall hasn't worked out as expected. Other than an assist and six blocks he was non-existent in the Stanley Cup Qualifiers.
Letting Smith go may not be a popular opinion. It may be necessary, however, due to limited cap space and the Predators' need to make some room on the roster for prospects or a free agent.
Smith was also a no-show for the playoffs and was desperately needed to boost scoring chances. He caught fire down the stretch of the regular season, but it didn't carry over in the restart.
Another action item on the Predators' list should be an attempt to trade Kyle Turris or buy out his contract.
Turris is another player who has never really been a good fit with the Predators. His effort in the qualifiers is duly noted, but he just hasn't been the impact player that the Predators need or have paid for.
Other notable players that should be on the trade block include Colton Sissons and Austin Watson. I'm still puzzled why Hynes didn't give a playoff spot to Blackwell instead of Watson. Blackwell played better than Watson in limited appearances during the regular season.
Watson did step up in the qualifiers, but it was too little, too late. Sissons is another example of a long-term contract with low production.
Several prospect options are waiting in the wings to take over some of these roles on the Predators roster, namely Eeli Tolvanen and Philip Tomasino.
Tomasino didn't make the playoff roster, but is looking for a roster spot in the very near future as a dynamic offensive player with great puck skills and skating ability.
Lastly, we turn our attention to the defensive pairing. The top one and a half pairs are great. The bottom one and a half need some work.
Changing up the defensive group
Dante Fabbro does a decent job with Mattias Ekholm, but he needs some work in the offseason. The move to pair him with Ekholm in the absence of P.K. Subban may have been too eager.
The bottom defensive pairing needs an overhaul. Yannick Weber, Dan Hamhuis, and Korbinian Holzer are all free agents. Letting those players walk leaves Jarred Tinordi.
Tinordi is another player that has made little impact and makes too many mistakes. Other than being a big body and punching Corey Perry in the face, his time with the Predators has been subpar.
Moving Tinordi back to the Milwaukee Admirals seems like the only viable option. He's a good player to call up when injuries occur, but not as a regular starter.
One solution would be to call up Alexandre Carrier. Carrier would bring some speed and scoring to that third pair, which would be a step up from the pairing combinations that were iced all season.
Carrier's recent contract extension may be evidence that this is what will happen. A veteran free agent defenseman would be a great addition to pair with Carrier.
Another possible scenario could see Carrier being paired with Ekholm and moving Fabbro to the third pair. A free agent defenseman or Frederic Allard from the Admirals could be paired with Fabbro to bring him a fresh perspective and allow him some more time to grow as a player.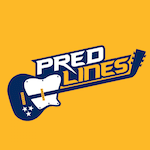 I firmly believe in the core of this team. If anything can be taken away from their loss in the Stanley Cup Qualifiers, it is the fact that the rejuvenated JoFA line performed so well.
Getting a taste of this team firing on all cylinders should excite the core group and Hynes. If they can get the right players to match with Duchene on the second line, rework the third and fourth lines, and solve the third defensive pairing issue, they can build on what was good in the playoffs.
The bottom line is something must be done. The Predators can't be totally overhauled, nor should they be. Moving on from some players that haven't produced, slotting in some top-performing prospects, and finding some quality free agents at a bargain should vastly improve the Predators and their future outlook.