Predators Take the Long-Term Investment With Goaltender Yaroslav Askarov
Drafting is never a perfect science, and the Nashville Predators decided to draft possibly a foundational goaltender for the future at 11th overall.
Mock draft boards were all over the place heading into the 2020 NHL Entry Draft for the Nashville Predators. Many had a high-scoring winger as a target position, but they went high for a goaltender.
Goaltenders don't normally go this high, but the Predators went against conventional draft wisdom and took Yaroslav Askarov, a massive goaltender with massive expectations to go along with his size.
Here's what Elite Prospects had to say about Askarov in their scouting report:
"He has incredible reaction speed and does a good job of controlling himself within the blue paint when he needs to. He's difficult to pull out of position by holding sustained pressure on his team's end of the ice."
Obviously this is a pick for the long-term future. It's not an instant fix and instead one that the Predators hopefully build around with smart front office moves in free agency and through developing their prospects.
Ask me in four years how this draft pick looks.
A goaltender with a high ceiling
Goaltenders usually don't go anywhere near this high in the draft. You're in the territory of Andrei Vasilevskiy in 2012, who was at pick 19 overall.
The fact that the Predators just couldn't resist taking him at the 11th pick speaks volumes to the potential and raw talent of Askarov. This is just so rare to see a goaltender taken so high in the draft.
Askarov's size of 6'4″ alone draws you to him. To add onto his flexibility and the way he covers the entire net easily made him the top goaltender prospect in the draft class.
Most of Askrarov's experience is with the Russian national team and in the KHL. But his experience is limited outside of Russia.
This is one of those picks where you're taking the best player you feel is on the board regardless of the position. That's truly how I feel about the pick by the Predators. They could've gone with a dynamic offensive winger like Seth Jarvis, but they chose the route of pushing for a franchise-changing goaltender.
What does this say to Juuse Saros?
I realize that most players drafted aren't immediate fixes, but this is amplified with the pick of Askarov. Combine that with the fact that the Predators currently have Juuse Saros and Pekka Rinne, it really just makes me wonder.
What kind of message does this send to Saros? A guy who is expected to be the franchise goaltender and taking over for Rinne.
It's one thing to take a goaltender in the 2nd round, or even late in the first round, but at the 11th pick overall is a bold pick.
You can't leave out Connor Ingram in this discussion. He finished his season in the AHL for the Milwaukee Admirals as one of the best goaltenders in the league. He's likely the next man up when Rinne retires or moves on from Nashville after this next season.
I'm just baffled by this pick. Maybe it will work out in four or five years, but it does nothing for the next two or three seasons. It tells me that Poile has a lot of faith and confidence in his current prospect pool, particularly at forward.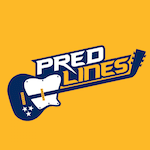 This pick might end up being a great one, but it tells me that Poile is conceding that the next couple of seasons will be dependent on young prospects growing up fast and taking elevated NHL roles.
The Predators have two picks in the 2nd round tomorrow, and also will have picks in the third, fifth and sixth rounds.