Nashville Predators: Young Players Will Be Leaned on Heavily to Produce
A young Nashville Predators team will enter 2021-22 with its lowest preseason expectations in quite a while. However, the youth of the roster can change that grim outlook we here in early August.
We've all gotten accustomed to regularly making the Stanley Cup Playoffs as Nashville Predators fans over the last several years. It's fully expected, but that's certainly not the case this year.
Although the thought of once again being disappointed in the first round of the playoffs is nauseating, it's also a completely different set of circumstances than previous seasons when the team had no excuses to fall so short.
Now the Predators front office has broken up a significant part of its core, and will rely on youth and inexperience to propel the team back to postseason hockey for the eighth-consecutive season.
Unlike past years where the expectations were to win a Stanley Cup, this season will be a different feeling if they outperform low expectations and make the playoffs with a young team.
The Predators have impressively made the playoffs for seven-straight seasons dating back to when Barry Trotz was finally let go, and the franchise moved on to Peter Laviolette behind the bench.
New faces who can impact Nashville Predators this season
It's going to be a new test of loyalty and fandom for fans to get accustomed to possibly missing the playoffs in 2021-22. However, I think we're all willing to take our lumps if the team is rebuilding their foundation with promising young players who just need development and consistent NHL experience.
Here's my short list of players who don't have much NHL experience, but will play big roles for the Predators in 2021-22:
Rem Pitlick (11 NHL games)
Alexandre Carrier (24 NHL games)
Tanner Jeannot (15 NHL games)
Cody Glass (66 NHL games)
Mathieu Olivier (38 NHL games)
Not all of these players are new to the organization. Some of them have been around for a few years now, only in the AHL with the Milwaukee Admirals and Chicago Wolves.
Rem Pitlick is the first one that comes to mind as a players who shouldn't keep getting buried in the AHL any longer. The Predators need to see what they have in him as a offensively skilled and fast player with a accurate shot.
With the losses of Viktor Arvidsson, Calle Jarnkrok and Eri Haula, this team has a lot of offensive to replace. Pitlick can be your answer to some of that offensive production that's been lost. He can't replace it all on his own, of course, but he's certainly a player that deserves an opportunity to be an offensive weapon in the bottom six.
Pitlick played in 10 games this past season and looked rather comfortable out there. He definitely wasn't a liability to the team in his limited ice time. He managed to get 11 shots on goal, but wasn't able to light the lamp for his first career goal. He did register his first two NHL assists.
Another offensive player who is coming from outside the organization is Cody Glass. I'm really excited to see him develop here in Nashville as a return in the Ryan Ellis bombshell trade.
Glass is for some odd reason already being written off by some fans, mostly from the Vegas Golden Knights community. It makes zero sense to me to give up on a player who is just 22-years-old and a former sixth-overall pick just four years ago.
The Predators' third line looks open for competition once training camp gets here in late September. If Glass and Pitlick both impress coaches in training camp, then they could find landing spots together on the third line.
Then we have the highly-anticipated NHL arrival of Philip Tomasino. In late July Predators AGM Jeff Kealty has this to say about Tomasino being NHL ready, per Brooks Bratten:
#Preds AGM Jeff Kealty says he feels prospect Philip Tomasino is "right there" when it comes to potentially being NHL ready.

— Brooks Bratten (@brooksbratten) July 22, 2021
Kealty says he's "right there" in terms of being ready for the NHL as soon as this upcoming season. Yet another reason why Predators training camp will be very intriguing to watch with so much roster competition.
If Tomasino were to make the opening night roster, where you would place him is an interesting debate to have. If no other major roster additions are made between now and the start of the season, then Tomasino will have to jump ahead of some veterans to get a starting roster spot.
I'm looking once again at the third line for Tomasino, as I believe the top-six will be fairly locked in, at least initially. It would be a bold move to elevate Tomasino directly into a top-six role, and in return move down a veteran player like Matt Duchene, Ryan Johansen or Luke Kunin.
When Tomasino does make his NHL debut, most likely this upcoming season, I don't see him instantly being a center. Put him on the wing and see what he can produce. Maybe you put him on a line with a veteran like Kunin, Nick Cousins, Colton Sissons or Rocco Grimaldi.
If you really want to go young altogether then you can leave Cousins out and match Tomasino with Glass and Pitlick, or throw Grimaldi back in the fold. Either way, it's going to be a line that likely has a lot of potential, but also a lot of inexperience, That will feature plenty of growing pains, so prepare yourself.
Young players who played well last season and need to keep improving
A major reason, aside from Juuse Saros' stellar play down the stretch, that the Predators improbably made the playoffs was due to young players growing up fast. Those same contributors will be heavily leaned on again to keep the playoff streak alive.
Tanner Jeannot was shown a lot of confidence from the front office by being protected in the expansion draft and also given a new contract. There's a lot of reasons to be enthusiastic about his upcoming season.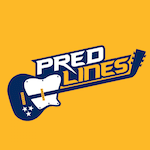 Jeannot might elevate upward through the lineup and off of the fourth line, or the popularly named "Herd Line". I would keep that line intact at the start and see if they can replicate the same success together, with Mathieu Olivier, Colton Sissons and Yakov Trenin being the other three that would be eligible for those other two spots.
You obviously keep Sissons in the starting lineup, so it would come down to choosing between Trenin and Olivier. Tough call to make for John Hynes.
I don't consider Eeli Tolvanen unproven anymore. He grew up fast last season and showed me he's ready to be an NHL regular. He's still just 22-years-old and nearly the same exact age as Glass.
On the defensive side of things, Alexandre Carrier isn't new at all to the Predators organization, but he is still fairly new to being in this elevated role on the NHL lineup. He's absolutely earned his spot to play alongside Roman Josi on the top pairing for opening night against the Seattle Kraken.
Philippe Myers (115 NHL games) also deserves to be mentioned here as he was a return from the Ellis trade, and also got protected in the expansion draft. You would think he has the inside track to be an opening night starter on the third pairing, but there's also Mark Borowiecki, Matt Benning and Ben Harpur still in the mix for those two spots.
The prevailing theme is the Predators aren't going to be very good because they have so many young players who are still developing and unproven. It's a fair assessment to make, albeit I don't think the Predators are necessarily doomed to be a lottery team, either.
If these players previously mentioned come together and play beyond their years, then the Predators can keep their playoff streak alive. It will be entertaining to watch as a new era of Nashville Predators hockey is being ushered in .