Nashville Predators: Compete at High Level or Lose Filip Forsberg?
In a season where the Nashville Predators are coined as a rebuilding team, the pressure is on to prove they're heading in the right direction.
Virtually every analyst or fan alike feels like the Nashville Predators are probably heading into a non-playoff year and won't be playing in the postseason for the first time since 2014, Barry Trotz's last year.
Missing the playoffs has become a rarity for the Nashville Predators, despite the disappointing showings once they get into the playoffs in recent memory. If most of the preseason predictions come true, their playoff streak coming to an end might not be the only thing of value that ends for the Predators.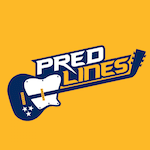 Filip Forsberg gets honest about Nashville Predators future
Following a Nashville Predators training camp practice ahead of their next exhibition game against the Tampa Bay Lightning, Robby Stanley of ESPN affiliate 102.5 The Game asked an outstanding question to Filip Forsberg in regards to wanting to stay in Nashville for the duration of his career:
Interesting comments from Filip Forsberg at #Preds camp today.

My question: "Is it still a goal of yours to finish your career here and be a part of this team moving forward? Are you still wanting that or is it a wait-and-see approach?"

— Robby Stanley (@RStanleyNHL) September 28, 2021
The ensuing answer from Forsberg brought a very illicit response that probably has Predators fans a little more anxious about his future than they were before hearing this honest response.
Forsberg went on to tell Stanley that ""I have no rush to sign. I mean I still have a full year. I don't know, I feel like you have to play your contract out. Obviously I have a full year." He also goes on to say that he has loved playing in Nashville and that he feels like the team has a really good opportunity this season.
First off, I really appreciate the candid response from Forsberg. Many times star players give generic answers to hot button topics like this, but arguably one of the best players on the team didn't hold back. I respect the hell out of that.
Now, when it comes to Forsberg's future in Nashville, all this really did was clear up what many of us were already fearing. That Forsberg might very well be ready to move on if the Predators suffer a last-place type of season, and GM David Poile could decide to not even put up much of a fight to retain him.
Prove to Forsberg it's worth sticking around
It's being coined a "competitive rebuild" this season, but if that results in one of the worst showings in the standings in nearly a decade, then a full tear down could end up occurring, including letting Forsberg walk.
Expect the very best version of Forsberg this season as he's going into that well-known "contract year" where athletes across all sports usually give it everything they have to secure a new contract, if not with their current team, then the next highest bidder.
There will be numerous teams, including legitimate Stanley Cup contenders, who will have high interest in Forsberg if he hits the open market next offseason. We can speculate on what his value will be, but that will obviously shift one way or the other based on his individual performance for a team that lacks a lot of veteran top-end talent among their forwards.
Forsberg actually had another very efficient year, albeit in just 39 games of a 56-game shortened regular season. He posted his second-highest point-per-game rate of his NHL career at 0.82.
Furthermore, Forsberg also posted his second-highest Corsi rating of his career at 59.5 and was very efficient on the power play tallying 13 points. That was his highest total since 2017-18 despite the shortened season of just 39 games for him.
The point is, Forsberg remains trending in the right direction as he's fully in the peak of his career at age 27. We often forget he's still so young because he broke into the league and took off so quickly in 2014-15 with 63 points in a full 82-game showing.
Poile will likely get into a heated bidding war if Forsberg decides to hit the open market next offseason after a similar type of season he just had. If those efficient numbers continue, the Predators will have to pay a hefty price to sign him long-term, and even that might not be enough to persuade Forsberg to stay.
We're still stomaching the losses of long-time fan favorites like Ryan Ellis, Pekka Rinne, Craig Smith, Viktor Arvidsson and Calle Jarnkrok over the last two years. Forsberg would be another tough blow.
Bottom line; the Predators front office has to show Forsberg they're heading back in the right direction or we're going to lose another beloved player from the Stanley Cup run.