Nashville Predators 2022-23 Preseason Preview: FLA vs. NSH Doubleheader
Nashville Predators hockey is almost back, Smashville. I think it goes without saying all of us here at Predlines are excited to see the return of the hockey as a whole, and I'm sure that stands true for many others who love this sport.
On Monday, September 26, the Preds will hit the ice in Bridgestone Arena for a doubleheader matchup against the Florida Panthers. Here, let's take a look at what we can expect from the doubleheader on Monday.
Nashville Predators Hockey is Back in Smashville, What can we Expect?
The Nashville Predators will play their first match of hockey on Monday for the first time since May, following a disappointing first round where the team was swept by the Stanley Cup Champions, the Colorado Avalanche.
The Preds certainly got better with the additions of Ryan McDonagh and Nino Niederreiter. What will be interesting is where we will see them paired come Monday. I expect McDonagh to be somewhere in the top 4 of defensive pairings, either pairing with Roman Josi or Mattias Ekholm. As for Niederreiter, I'm expecting him to be somewhere in the middle-six. Niederreiter brings in depth scoring, and is known for going to the dirty areas to score, fitting in nicely with the Preds' gritty style of play.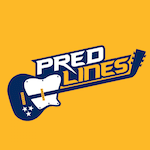 I'm expecting to see the early stages of the starting forward lines for this season. Philip Tomasino has been on the 2nd line with Ryan Johansen and Nino Niederreiter throughout training camp, and Ryan McDonagh has been with Mattias Ekholm.
We should expect to see the "Herd" line together, consisting of Colton Sissons, Tanner Jeannot, and Yakov Trenin. This is the team's identity line, so expect them to bring the physicality to Florida's top lines to set the tone and shut those lines down.
Personally, I'm expecting a great showing from the likes of Egor Afanasyev and Luke Evangelista. Afanasyev has been pushing for a roster spot, and we could be in for a surprise depending on how he shows out during the preseason. Evangelista is another prospect who has some serious hype, coming off of a 62 goal season with the London Knights. Evangelista is a very promising prospect, expect to see him show us flashes of what he can do come Monday.
Predictions for Games 1 and 2 vs FLA
For games 1 and 2, I'm predicitng a 4-3 loss for game 1, but a 5-2 win for game 2.
The start of game 1 will likely be full of who we will actually see start come opening night, and while the Nashville Predators have gotten better, I can see the team fighting to win, but with Florida coming out on top as the better team. The prospects will likely keep the Preds in it, but it should be a narrow loss.
For game 2, I believe the Press will be able to respond as they have in the past, and comfortably top the Panthers in game 2. With more prospects getting more ice time, I just see the Preds' prospect pool coming out on top, especially after seeing what they did to Florida during the prospect showcase.
Regular season hockey is almost here, and we'll be getting our first taste of what this Predator's team is made in just a matter of days. This matchup should be fun, especially being a doubleheader. Buckle up, everyone. Hockey is back.