Nashville Predators: David Legwand Most Underrated in Team History By Far
A lot of high-quality players for the Nashville Predators have came through over the years and been grossly underrated. None more than David Legwand.
Before the Nashville Predators really started taking notice nationally in the NHL, it was easy to overlook players on the team. Unless you lived in Nashville, you really had no reason to follow the early years of the Predators.
This left a lot of players overlooked that were actually very good players, but no one can say that more than the original Nashville Predators, David Legwand.
You want to talk about enormous pressure as a young draft pick? That's what Legwand was up against by being the first draft pick for the Nashville Predators franchise.
Legwand grew up fast
Legwand hadn't even reached 18-years-old yet when he was selected. He played in just one game that first season at age 18, but became an important part of the team the following season, playing in 71 games and putting up 28 points.
Those early Predators teams weren't budding with talent, as you can imagine. The expansion rules were much different, and it was a long process to get the Predators into a team that could regularly complete on a high level.
However, I remember Legwand being a big bright spot on the team almost immediately. After easing into thing in 1999, he increased his production to 41 points the following season as the Predators managed 80 points in the standings and had a third place division finish.
A long and storied career
Then there's the longevity of Legwand's career with Nashville. He wasn't some flash in the pan that the organization didn't get many productive seasons out of.
Legwand played productive hockey for 15 seasons with the Predators, which is unheard of in pro sports today. I still recall how sad I was to see Legwand traded away in 2014 to, of all teams, the Detroit Red Wings.
The move made sense and it paid off by getting Calle Jarnkrok in return, along with some draft picks and Patrick Eaves, but it still hurt my heart to see it happen.
Even at age 34, Legwand was still among the leaders on the team in points production. He was just incredibly reliable for so many years, and really lived up to the pressure of being that first original draft pick by the Predators.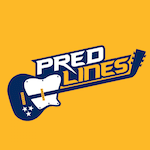 Legwand hit the peak of his career in 2006-2007 with 63 points, and just before his time ended with the Predators by putting up 53 points in 2011-12.
That 2011-12 season was one that the Predators put up 104 points in the standings and eliminated the Red Wings in the playoffs.
What a journey it was for Legwand in a Predators sweater. And yet he still doesn't seem to get the league-wide recognition he deserves.
He will always be underrated
The hockey purists know him very well, but he's extremely underrated due to so many seasons playing on a small market team team that didn't really burst onto the national scene until the tail end of his Predators career.
Legwand remains the franchise leader in many key categories such as games played (956), goals (210), assists (356) and points (566). The games played record will stand for a long time, but the others will probably fall soon at the hands of Roman Josi or Filip Forsberg.
Somehow Legwand never won any major NHL season awards or made an All-Star appearance, which honestly surprised me when I went back and looked.
Everyone should absolutely go read Legwand's piece in the Player's Tribune that he wrote in 2017 when the Predators were marching to the Stanley Cup Final. Try to fight some of those tears away and enjoy it.
Here's a big quote that I took away from it:
"We wanted to be winners and we weren't going to make excuses for not winning. We knew it wasn't going to ever be easy for us, we just had to have resilience. The approach we had back then, I think, is the same one you see in the Predators organization today."
Legwand was always one of those players that you didn't have to worry about taking a play off. The guy had that quiet and methodical leadership and confidence that thrives in any team sport.
We're going to do a full list of other former Predators players that were grossly underrated in the near future, but no one tops Legwand. He's a bigger piece of this franchise than many will ever understand.
Thanks, Leggy, for helping me start to love hockey in the South as a youngster growing up. You'll always be the "Original Predator" and vastly underrated in my book.