Nashville Predators: Make Alexandre Carrier a Starter Against Arizona
The excitement continues to build as postseason training camps opened. The Nashville Predators brought their big-name prospects as reinforcements.
The Nashville Predators expanded training camp roster has been released. Here's a look at the list per Robby Stanley of the Predators official website:
Here's your #Preds training camp roster. pic.twitter.com/8nEJsb1ROl

— Robby Stanley (@RStanleyNHL) July 13, 2020
There are some names on this roster with which Predators fans are very familiar. Names like Philip Tomasino, Eeli Tolvanen, and Alexandre Carrier are in Nashville to participate in the training camp and maybe even snag a starting role.
While no one knows for sure what will happen with the playoff roster and next year's roster, Alexandre Carrier should be playing for the Predators when they take on the Arizona Coyotes.
Bottom defensive pairing
The Predators' top two defensive pairings can score. They have one of the NHL's top defensive duos in Roman Josi and Ryan Ellis.
Josi had 16 goals and 49 assists in the regular season. The Norris Trophy contender would have tallied more had the season not been paused.
Ellis, Mattias Ekholm, and Dante Fabbro combined for 21 goals and 61 assists this season.
Then there's the third pairing. A hot topic and a highly criticized part of the team for most of the season.
Dan Hamhuis, Jarred Tinordi, Yannick Weber, and former Predator Matt Irwin combined for two goals and 16 assists.
Korbinian Holzer, acquired in the Irwin trade, only played in three games for the Predators but has not been much of a scorer throughout his career.
While we know that the main job of the third defensive pairing is not to score, these numbers are a little underwhelming. The Predators need to shake things up in this area, and not stick with the status quo.
What Carrier could bring
Carrier has had consistent numbers during his time with the Milwaukee Admirals. He has averaged 5 goals and 30 assists in four seasons with the Predators' AHL affiliate.
Predlines' Chad Minton had this to say about Carrier.
Carrier can provide more speed and offensive playmaking ability than any other third-pairing defenseman they've been using. He deserves a spot on an expanded playoff roster.
Speed and offensive playmaking ability are precisely what the Predators' third defensive pairing needs. If Carrier can put up similar numbers to his AHL statistics, he will provide some much-needed offense into that third pairing.
The recent additions of Tinordi and Holzer do inject a physicality into the defense, but little else. If you have the option of adding a player who can generate some offense and lessen your salary cap hit, why would you not make that move?
Even if Carrier sees no playing time in this postseason, the odds are high that he's in a starting role for the Predators next season. The Predators signed Carrier to a three-year contract, an indication that there's some defensive movement in the offseason.
Hamhuis, Weber, and Holzer are all free agents at the end of this season. If I were GM David Poile, I wouldn't re-sign Hamhuis or Weber. There's also the possibility that Hamhuis could retire.
I would think about keeping Holzer and calling up Carrier and another Admirals defenseman. If Holzer decides to move on and test free agency, several free agents could be had at a bargain price.
Cap savings of any kind may also be a good idea due to the salary cap remaining flat next season. The Predators will be cutting it close on cap space and may not even be able to retain some of their forwards who are free agents at the end of this season, namely Mikael Granlund and Craig Smith.
Carrier Needs More Experience
There is one thing that Carrier doesn't have going for him; experience. He has only five NHL games for the Predators. In those five games, he has no goals, assists, or points.
Injecting someone with little NHL experience and no playoff experience might not be the greatest idea with how much is riding on these playoffs.
A right call for Coach John Hynes may be to put Carrier on the playoff roster so that he can get a feel for the intensity of NHL playoff hockey. This invaluable experience can give him an edge over other prospects looking for a roster spot next season.
This will also give Carrier some needed experience with Hynes and the rest of the Predators coaching staff. There's no doubt that Hynes will be implementing some new philosophies during this shortened and intense training camp.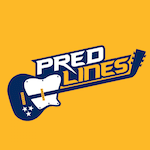 The average age of the Predators is hovering around 29, with a few of the players looking at the back end of their careers. It's time for management to start making some moves with the prospects.
This team isn't getting any younger. Carrier might be the spark that's needed to rejuvenate the Predators' third defensive pairing. He deserves a spot on third pairing over what they've already seen perform there in the regular season.