Nashville Predators Check-In: It's All About Training Camp
Training camp is in full swing for the Nashville Predators. They will face the Arizona Coyotes in the qualifying round on August 2.
The NHL and the NHLPA came to terms on the Return To Play plan. NHL teams will be heading to Edmonton and Toronto for the 2020 NHL playoffs. The Nashville Predators will be heading to Edmonton.
We are less than a month away from playoff hockey. While we patiently wait for the playoffs to start, we have lots of training camp news.
While the days are gradually counting down until the qualifying round, we're checking in on some of our favorite Nashville Predators players and the team to see what they have been up to this week.
We will continue to follow the team closely to see how they're passing the time and staying ready to go when the playoffs start.
In this week's check-in with the Predators, I took a look at some of the fun things going on with some of the players, including training camp.
The GOAT Is Back In Bridgestone
Pekka Rinne has returned to Bridgestone. Welcome home. It's good to see you. We have missed you.
Ahhhhhhhhh. #ForSmashville | #Preds pic.twitter.com/94nvn6xuHO

— Nashville Predators (@PredsNHL) July 13, 2020
Training Camp Photos
The Predators' official website has a great selection of photos from training camp. It is great to finally see the team back together on the ice.
Day ✌️ in photos. #Preds | #ForSmashvillehttps://t.co/ghVvDXgHbQ

— Nashville Predators (@PredsNHL) July 14, 2020
Start Times For Qualifying Round And Exhibition Game
The NHL released the start times for the Predators' first three qualifying games. The games against the Arizona Coyotes will take place in the afternoon on each day. This article also talks about an exhibition game against the Dallas Stars on July 30.
Your lunch break just got a little more fun.

The @NHL has announced start times for the 2020 Stanley Cup Qualifier games, and the #Preds will be playing in the afternoon through at least the first three of those contests.https://t.co/WNW2oOcgzF

— Nashville Predators (@PredsNHL) July 14, 2020
Coach Hynes' First Training Camp
This unique playoff situation has given Coach John Hynes a golden opportunity that he wouldn't usually get; a pre-playoffs training camp. Coach Hynes will use this time to fully implement his system, philosophies, and coaching style. This training camp should give the Predators an edge in the upcoming qualifying round and beyond.
Coach #ForSmashville. https://t.co/siF8tIITYV

— Nashville Predators (@PredsNHL) July 14, 2020
Duchene Diaries – Episode 2
Matt Duchene started a video blog to chronicle his preparation for training camp and the upcoming playoffs. In the second episode, he talks about working out and returning to Bridgestone to be with the rest of the guys.
.@fifththird is giving you a look inside the life of @Matt9Duchene as he gets ready to hit the ice again.

As training camp begins, catch up with Matt on episode 2 of the #DucheneDiaries. 📽 pic.twitter.com/iSV1ugH77z

— Nashville Predators (@PredsNHL) July 15, 2020
And Finally, We Present…Filip Forsberg's Playoff 'Stache
With an epic playoff mustache like the one Filip Forsberg is sporting, how could we lose?
"It's a me – Mario!" pic.twitter.com/7k4acvS8w3

— Nashville Predators (@PredsNHL) July 14, 2020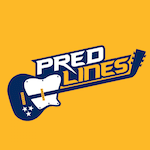 Training Camp is underway, exhibition games and playoff games are scheduled, and we are moving at a rapid pace towards the playoffs.
During these trying times, it's good that we can continue to follow our favorite teams on social media to help provide some form of comfort and normalcy.
For more information about COVID-19, visit CDC.gov or the website for your state's Department of Health.