Nashville Predators Wrap-Up: Changes Are Already Happening
The early stages of the offseason have already begun for the Nashville Predators. There will be more changes in the coming weeks and months.
While we are "impatiently" waiting for the new season to start for the Nashville Predators, we'll continue to bring you news and fun social media posts from the team and players.
There's going to be lots of news and announcements from the Nashville Predators in this shortened offseason.
We're looking forward to covering the NHL Entry Draft, free agency, training camp, and lots more.
The Predators are teetering between falling into a rebuild or staying relevant in an imporoving Central Division. A division that had every team qualify for the 24-team playoff field.
Once the playoffs are complete, the news will be coming at a furious pace. The offseason will be short, and there will be lots of business to take care of before the new season begins.
This week we take a looks at some coaching changes, some prospects, and a new Predators fan.
Assistant Coaching Changes Announced
General Manager David Poile announced on Monday that there would be some assistant coaching changes for the Predators.
Rob Scuderi goes back to his previous role as the Defense Development coach, and Dan Muse's contract will not be renewed.
The Scuderi move back to his former position was the plan when head coach John Hynes came to the Predators. Poile announced that they would begin the search to replace Muse.
This news should come as no surprise to fans. When Hynes was hired at mid-season, the assistant coaches were retained.
Now that Hynes has time to make some changes, he will want to hire his own coaching staff. Stay tuned. More changes may be on the way.
NEWS: #Preds General Manager David Poile announced today that Rob Scuderi will return, as planned, to his role as Defense Development Coach and that the contract of Assistant Coach Dan Muse will not be renewed for the 2020-21 season.https://t.co/nPrNvCdqGp

— Nashville Predators (@PredsNHL) August 17, 2020
Predators Looking At Prospects For Next Season
In an effort to shake up the roster for next season, the Predators may be looking at younger players from the prospect pool.
Poile and Hynes said in a call with the media that "all options are on the table" when it comes to next year's roster.
Several prospects were mentioned, including Eeli Tolvanen and Philip Tomasino.
In all likelihood, Alexandre Carrier should be on the starting roster next season. He may be taking the place of recently retired defenseman Dan Hamhuis.
Regardless of how they go about it, we will see some new faces on the Predators' bench next season.
"Tolvanen is right on that cusp, and we're going to give him a good opportunity." #Preds | #ForSmashville https://t.co/byC4CJRGHR

— Nashville Predators (@PredsNHL) August 20, 2020
#MaskNowPartyLater
To raise awareness about the effectiveness of wearing a mask to combat COVID-19, Bridgestone Arena and the Nashville Predators are spreading the #MaskNowPartyLater hashtag.
The sooner we start working together, the sooner we will be able to get back to Bridgestone to watch the Predators in action.
We miss you. Together we can do this. #MaskNowPartyLater pic.twitter.com/sdqHDvLDY1

— Nashville Predators (@PredsNHL) August 19, 2020
Welcome To A New Preds Fan
On Sunday, Predators prospect goaltender Troy Grosenick and his wife welcomed their second child, Claire Barbara. Congratulations to the Grosenick family on their new addition.
Introducing Claire Barbara…everyone home happy and healthy…Beckett's already got a watchful eye on his sister #GrosenickPartyOfFour pic.twitter.com/OXkwwzC2O0

— Troy Grosenick (@TGrose1) August 23, 2020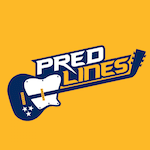 The Predators have an excellent social media team. They do a great job of keeping the fans up to date on team news and on what the players are up to.
We are patiently waiting for offseason news from the Predators organization. All indications point to some big changes with the team. We will bring you the news as it happens.