Nashville Predators Wrap-Up: Preparing For Next Season and Beyond
We are starting to see some news updates trickling in from the Nashville Predators. More significant news should come in the next few weeks.
While we are "patiently" waiting for the new season to start for the Nashville Predators, we'll continue to bring you news and fun social media posts from the team and players.
There's going to be lots of news and announcements from the Nashville Predators in this shortened offseason as they try to stay relevant in the Western Conference.
We're looking forward to covering the NHL Entry Draft, free agency, training camp, and lots more.
Once the playoffs are complete, the news will be coming at a furious pace. The offseason will be short, and there will be lots of business to take care of before the new season begins.
The Predators will be making some significant roster changes before the new season starts.
This week we take a look at some Eeli Tolvanen news, some talk about next season's start date, and a new inductee into the Tennessee Sports Hall of Fame.
Eeli Tolvanen Loaned to KHL
The Predators announced that they had loaned forward Eeli Tolvanen to the KHL in Finland. Tolvanen will be playing for Jokerit.
In the announcement, General Manager David Poile said that Tolvanen would return from his stint in the KHL to attend training camp.
This has to be seen as a good sign that Tolvanen has a really good shot at a roster spot for next season. Poile may be trying to get Tolvanen some good, competitive ice time to prepare him for training camp.
Tolvanen is part of the "youth" movement that Poile and Head Coach John Hynes have discussed recently. If all goes according to plan, we will more than likely see him in a Predators jersey on opening night.
NEWS: General Manager David Poile announced today that the #Preds have loaned Eeli Tolvanen to the Kontinental Hockey League's Jokerit (Helsinki, Finland) until the start of training camp for the 2020-21 season.https://t.co/AdJWi0bh57

— Nashville Predators (@PredsNHL) August 24, 2020
2020-21 Season News
In an article last week, the NHL announced that they are working on plans to start next season and what that may look like for teams. They also announced that the tentative start date would be December 1, but that is subject to change.
The NHL intends to have fans in the stands when the season starts but that is also subject to change. They also intend to play a full 82 game schedule which would mean lots of back to back games for the teams.
Plans for the 2020-21 season are in the works. Here are some of the latest updates. #Preds | #ForSmashvillehttps://t.co/PPjgbx0Qn7

— Nashville Predators (@PredsNHL) August 25, 2020
Russian National Team Courting Yakov Trenin
Last week, a Tweet surfaced, showing Yakov Trenin meeting with the CEO of the Russian National Team, Roman Rotenberg. According to the Tweet, Rotenberg took Trenin on a tour of the SKA Saint Petersburg training facility and expressed interest in having Trenin play for the Russian National Team.
Is Trenin contemplating a move to SKA Saint Petersburg, or is he keeping his options open if the 2020-21 season is delayed? We will keep you posted if any news comes out regarding Trenin.
Yakov Trenin met Roman Rotenberg, the chief executive of the Russian National Team. They visited the training facility of SKA Saint Petersburg. Roman expressed his interest in seeing Yakov playing in SKA and Team Russia for the upcoming season. #PredsNHL pic.twitter.com/T63appkr6y

— Shumi Babayev (@BabayevShumi) August 25, 2020
Tennessee Sports Hall Of Famer, Terry Crisp
Last Saturday, the Tennesse Sports Hall of Fame inducted former NHL player, coach, and current Predators TV broadcaster, Terry Crisp.
Crisp enjoyed a long and storied NHL career, playing for 10 years and as a coach for 11. As a player, he was a two-time Stanley Cup champion with the Philadelphia Flyer. Crisp also coached the Calgary Flames to a Stanley Cup win in 1989.
Crisp eventually moved to Nashville and became a color commentator for the Predators. Now he does pregame and postgame TV broadcasts alongside Lyndsay Rowley.
Congratulations to Terry Crisp on this Tennessee Sports Hall of Fame induction.
Congrats, Crispy!

Don't miss @ZenofTerryCrisp be inducted into the Tennessee Hall Of Fame.

Tune in tonight at 7 p.m CT: https://t.co/6VMb7TrZGl pic.twitter.com/qN32AKOCPT

— Nashville Predators (@PredsNHL) August 29, 2020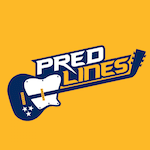 The Predators have an excellent social media team. They do a great job of keeping the fans up to date on team news and on what the players are up to.
We are patiently waiting for offseason news from the Predators organization. All indications point to some big changes with the team. We will bring you the news as it happens.