Nashville Predators Wrap-Up: A Stanley Cup Champion About to be Crowned
As the playoffs wind down and we move closer to the draft and free agency, more Nashville Predators news should start coming at a rapid pace.
The long wait for the new season to start for the Nashville Predators rolls along, and we'll continue to bring you news and fun social media posts from the team and players.
There will be lots of news and announcements from the Nashville Predators in this shortened offseason as they try to stay relevant in the Western Conference.
The Stanley Cup Finals are upon us. The NHL has official dates set for the draft and free agency quicklyafter the champions are crowned.
The Predators have a lot of business to take care of between now and the beginning of next season.
This week we take a look at the official draft dates, a new assistant coach for the Predators, and some hockey guys playing golf.
Welcome Assistant Coach Dan Hinote
On September 10, the Predators filled a vacant assistant coaching slot with former player and Stanley Cup champion, Dan Hinote.
Hinote spent nine years in the NHL, playing for the Colorado Avalanches and the St. Louis Blues. In 2001, Hinote added Stanley Cup champion to his resume. While in St. Louis, he shared the ice with TV commentator Chris Mason.
Hinote will mainly be responsible for working with the penalty kill but will also look to connect with the players and help them to be a stronger team in the long run.
Hinote spent time as an assistant with the Columbus Blue Jackets and with the USA Hockey's National Team Development Program.
Welcome to Nashville, Dan.
NEWS: Nashville Predators President of Hockey Operations/GM David Poile announced today that the #Preds have hired Dan Hinote as an assistant coach.https://t.co/GkxI0m1tJN

— Nashville Predators (@PredsNHL) September 10, 2020
2020 NHL Draft and Free Agency Dates
The NHL announced that the 2020 NHL Draft would take place virtually on October 6 and 7.
The Nashville Predators will pick at number 11 in the first round. The New York Rangers have the 1st overall pick and are expected to pick forward Alexis Lafreniere.
Check out Site Expert Chad Minton's article detailing some players that the Predators could target with the 11th pick.
The NHL also announced that free agency plans to officially begin on October 9. The Predators have seven full-time roster players and six prospect players who are free agents this year.
The 2020 #NHLDraft will be held virtually Oct. 6-7. Here's a primer:https://t.co/gecgIzKAAT

— NHL.com (@NHLdotcom) September 11, 2020
Former Predators Coach Lands A New Job
Per Darren Dreger, the Washington Capitals have hired former Predators coach Peter Laviolette as their new head coach, replacing Todd Reirden. Laviolette agreed to a three-year deal with the Capitals.
Laviolette spent six seasons with the Predators before being replaced by John Hynes in January.
Laviolette led the Predators to the playoffs in every season he coached, including the Stanley Cup Finals in 2017.
Peter Laviolette agrees to 3 year deal to coach the Washington Capitals.

— Darren Dreger (@DarrenDreger) September 15, 2020
Predators Host The Brent Peterson Foundation Golf Tournament
Head Coach John Hynes, Roman Josi, Rocco Grimaldi ,along with broadcasters Chris Mason, Hal Gill, and Willy Daunic participated in the Brent Peterson Foundation for Parkinsons golf tournament.
Here is a little bit about the Peterson Foundation from their website.
The Peterson Foundation for Parkinson's (PFP) mission is to support and enhance lives of people with Parkinson's, their care partners, and their families to achieve their highest possible quality of life through awareness, education, and programs within a caring community.
It's great to see Predators players, coaches, and broadcasters having fun and participating in a charitable event such as this.
Gooooood morning. Yesterday was fun. ⛳️

Text PREDS to 76278 before 9/25 to take part in the golf auction or to donate. pic.twitter.com/ZOvhgAQTe8

— Nashville Predators (@PredsNHL) September 15, 2020
So Many Future Predators Fans
The Predators' organization is experiencing a bit of a baby boom. Three players announced that their families would be expanding in the near future.
Congratulations to Roman Josi, Austin Watson, Pekka Rinne, and their significant others on the good news.
GUYS! Captain Jos is gonna be a dad!!

Congrats to Roman and Ellie! 💛 pic.twitter.com/4yWQi1YIjb

— Nashville Predators (@PredsNHL) September 7, 2020
Good morning, happy Saturday!

Watty is having another baby!

Have a great day!! pic.twitter.com/KZ1QRfuNP1

— Nashville Predators (@PredsNHL) September 5, 2020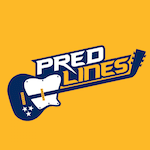 The Predators have an excellent social media team. They do a great job of keeping the fans up to date on team news and what they are up to.
All indications point to some significant changes with the team in an unprecedented offseason that will move rapidly.