Nashville Predators Wrap-Up: Free Agency Rolls On
The 2020 NHL Free Agency signing period rolls on. The Nashville Predators have signed a few players, but we are left wondering if General Manager David Poile has something else in the works or if this is the team at the start of next season.
Free agency has seen the arrival of some newcomers who should help the Nashville Predators ease their defensive woes. Poile has yet to sign a big name forward to work with Matt Duchene on the second line, and it appears unlikely that he will.
Most of the roster spots are filled with the signings of three forwards, three defensemen, and a goaltender.
The speculation was that the Predators would make a big push to sign Arizona Coyotes forward Taylor Hall. The Buffalo Sabres derailed that plan by signing Hall to a one-year contract.
Next on the list was Tyler Toffoli, but he signed a four-year deal with the Montreal Canadiens. Evgeni Dadonov, also on the list, signed a three-year contract with the Ottawa Senators.
The new speculative short-list for the Predators includes names like Mike Hoffman and Anthony Duclair, Hoffman being the most likely.
In a press conference on Thursday, Poile indicated that he might be finished with free agency, but stated that he was still talking to some teams. If he decides not to sign any other players, there will be a lot of pressure on the incoming prospects to perform at the NHL level.
It will be exciting to see all of the new players meshing with the current roster players in an attempt to stay relevant in the Western Conference. There's a lot of roster turnover to overcome.
This week we take a look at prospects playing in other leagues, a goaltender signing, and Rocco Grimaldi gets a haircut.
Prospects On Loan
The NHL crowned a Stanley Cup champion when we would typically be seeing the season opener. The adjusted NHL schedule has wreaked havoc with the NHL and AHL schedules.
In an attempt to get their prospects some playing time, the Predators have loaned three players to KHL teams. Eeli Tolvanen, Yakov Trenin, and now Egor Afanasyev are all playing for KHL teams in preparation for the upcoming NHL season.
Tolvanen is currently playing for the Finnish KHL team Jokerit. Trenin is on loan to SKA Saint Petersburg. On Monday, the Predators announced that Afanasyev would be playing for CSKA Moscow.
Ironically enough, the Predators made their top draft choice Iaroslav Askarov, who also plays for SKA Saint Petersburg.
Trenin will be on the roster on opening night for the Predators as he just signed a two-year one-way contract back in September.
For Afanasyev and especially Tolvanen, this playing time is invaluable to their ongoing development. Depending on how training camp goes, Tolvanen will most likely be in a Predators jersey once the season starts. Afanasyev is a slim possibility, as well.
ICYMI: The team has loaned forward Egor Afanasyev to the Kontinental Hockey League's CSKA Moscow.#Preds | #Smashvillehttps://t.co/sZEMSjo3BS

— Nashville Predators (@PredsNHL) October 12, 2020
Predators Sign Another Goaltender
Poile announced on Tuesday that the Predators had signed goaltender Kasimir Kaskisuo to a one-year, two-way contract.
Kaskisuo played in one NHL game last season for the Toronto Maple Leafs. He also played in 27 games for Toronto's AHL affiliate team last season.
So the Predators are clearly stocking up on goaltenders. Kaskisuo will more than likely be Connor Ingram's backup in Milwaukee next season. Free agency saw the departure of Admirals goaltender Troy Grosenick who signed a contract with the Los Angeles Kings.
Kaskisuo has an excellent YouTube channel that chronicles his life in professional hockey. As a member of the playoff roster for Toronto, Kaskisuo showed what daily life in the Toronto bubble was like.
NEWS: The #Preds have signed goaltender Kasimir Kaskisuo to a one-year, two-way contract.#Preds | @mkeadmirals https://t.co/f5TqDsLg33

— Nashville Predators (@PredsNHL) October 13, 2020
Help Kasimir Design His New Pads
Kaskisuo wasted no time embracing his new role in Nashville and Milwaukee. He enlisted the help of Predators and Admirals fans everywhere by asking for their designs for his new goalie pads.
If you have watched the videos on his YouTube channel, his latest vlog featured a segment where he signed his contract with the Predators. He seems to be very excited to join the Predators and Admirals family.
When submitting designs, make sure to use #KazPads. Kaskisuo's handle is @Kaskisuo on both Twitter and Instagram.
Minutes after his deal with the #Preds was officially announced, Kasimir Kaskisuo was already soliciting creative assistance from #Smashville. @Kaskisuo | @mkeadmirals https://t.co/wHQaKU5SG7

— Nashville Predators (@PredsNHL) October 14, 2020
Preds Sign Another Defenseman
Poile also announced on Tuesday that the Predators had signed defenseman Tyler Lewington to a one-year, two-way contract.
Lewington played for the Washington Capitals' AHL affiliate team last season. With the Hershey Bears, he racked up 13 points (4 goals, 9 assists).
Lewington also has played in eight NHL games for the Capitals, only scoring a goal and an assist in two games during the 2018-19 season. Expect to see him with the Admirals next season.
NEWS: The #Preds have signed defenseman Tyler Lewington to a one-year, two-way contract for the 2020-21 season.#Preds | @mkeadmirals https://t.co/e2gCHm4zOF

— Nashville Predators (@PredsNHL) October 13, 2020
Breaking News
We now interrupt your regularly scheduled program to bring you this breaking news flash. Rocco Grimaldi finally got a haircut.
If you look at the first picture, you see Grimaldi looking like a guy who is looking for night two tickets to a three-day Phish concert at Red Rocks.
Either Grimaldi couldn't find the complimentary barber while in Edmonton, or he joined a Weezer cover band.
The second picture looks like the Rocco that we are all used to seeing. Congratulations on finally getting your coiffure in order, sir.
What's your vote??? pic.twitter.com/Mu9D1h9yXa

— Rocco Grimaldi (@RGrimaldi23) October 15, 2020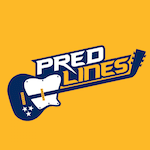 The Predators have an excellent social media team. They do a great job keeping the fans up to date on team news and what they are up to.
While the Predators offseason rolls along, the start of training camp and more concrete detials on next season should be announced soon. Changes are happening with the Predators, and we will bring you all of the news when it happens.