Nashville Predators Wrap-Up: Free Agency Is All But Over
It appears that free agency may be over for the Nashville Predators. Unless management decides to make a move for one more big-name forward, we have a roster until training camp begins.
Fans are eagerly waiting to see if General Manager David Poile will sign one more forward to the Nashville Predators roster or if he is saving cap space until next season's trade deadline.
It appears that Poile is happy with the free agents that he has signed and all of the offseason moves that were made.
For the past three seasons, Poile has assembled teams with skilled shooters who rely on their quickness. Those teams have had disappointing results.
Grit and toughness are terms that haven't been used to describe the Predators lately, but that may change with the recent player acquisitions.
All of the free agents that Poile signed are known for their toughness and defensive play. Next season will be a new and refreshing look for the Predators.
It will be exciting to see some fresh faces on the roster and see a team that will no longer be pushed around by bigger and stronger teams.
This team will more than likely have some obstacles to overcome, but it seems like Poile now has them headed in the right direction.
This week we take a look at the retirement of a broadcasting legend, a new Predator who makes his podcast debut, and a free agency recap.
Broadcaster Mike "Doc" Emrick Announces Retirement
On Monday, Mike "Doc" Emrick announced his retirement after 47 years in broadcasting.
Emrick began his broadcasting career in 1973. Over the years, he has worked for almost every network calling NHL games, including the Olympics.
Known for his exciting play-calling and humor, Emrick also has a vast knowledge of hockey, and it's history.
Emrick called his last game on September 28 when the Tampa Bay Lightning defeated the Dallas Stars in game six of the Stanley Cup Finals.
Doc is well-loved by everyone in the hockey community and will be sorely missed by all. Enjoy your retirement, Doc. You deserve it.
An icon. #ThankYouDoc https://t.co/lGfm7Cz3mf

— Nashville Predators (@PredsNHL) October 19, 2020
Free Agency Recap
Last Thursday, Poile gave a recap of the moves he made during the free agency signing period.
Poile gave a rundown of all of the signings and the attributes that the newly acquired players bring to the Predators. Once again, we heard words like "grit" and "physicality" being used to describe the direction that the Predators are heading next season.
Poile also reiterated the need for the core group to step up next season and produce more than they did last year.
The Predators General Manager also said that he would not sign another player just to sign someone. He also likes where the team sits with the amount of salary cap space they have.
If Poile doesn't sign another player at this time, I see him making a move or two once next season's trade deadline approaches.
📽️ #Preds' General Manager David Poile recaps the free agency period and discusses the recent roster changes.https://t.co/cDn3pIxBEK

— Nashville Predators (@PredsNHL) October 18, 2020
Preds Announce Development Investments
Last week, the Predators announced that they would be investing $504,000 into programs to help develop girls' hockey and learn to skate initiatives.
The NHL and NHLPA awarded the Predators organization grant money as part of the NHL's Industry Growth Fund.
The goal of these programs is to make the sport of hockey more accessible to everyone who wants to get involved.
In conjunction with the @NHL & @NHLPA, the Nashville Predators will invest $504,000 into the development of girls hockey & learn to skate programs in Middle TN over the next two years as part of the League's Industry Growth Fund.#Preds | @FordIceCenter https://t.co/R9nVvHph72

— Nashville Predators (@PredsNHL) October 15, 2020
Mark Borowiecki Makes His Podcast Debut
Mark Borowiecki has become the first new Predator to appear on the Preds Official Podcast.
On the podcast, Borowiecki talks about his "Boro Cop" nickname, thwarting a car robbery, and his excitement to move to Nashville with his family so that they can begin working in the community.
Borowiecki was one of the first players signed on the opening day of free agency. Known for his toughness, Borowiecki will be a welcome addition to the Predators' third defensive pairing.
Mark Borowiecki made his #PredsPodcast debut last week to chat about his "Boro Cop" nickname and signing with the #Preds. @brooksbratten | @TomAWillis https://t.co/lAHT6Vqf4V

— Nashville Predators (@PredsNHL) October 20, 2020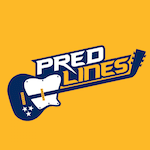 The Predators have an excellent social media team. They do a great job keeping the fans up to date on team news and what they are up to.
While the Predators offseason rolls along, the start of training camp and more concrete details on next season should be announced soon. Changes are happening with the Predators, and we will bring you all of the news when it happens.