Nashville Predators: Intriguing Takeaways from End of Season Presser
There was a lot to digest from the end-of-season press conference from the Nashville Predators as they enter an offseason full of a lot of challenges and uncertainties.
It's always tough seeing these players give their thoughts on a season that ended in disappointment, especially for these core group of players that have come up well short of expectations for four-straight postseasons now.
The team press conference with local media offered a lot of intriguing thoughts from many of the core players, so a lot of credit is owed to local media for getting some really good questions out there to be answered.
No clear answers yet from Rinne
The biggest thing weighing on many of our minds is what plans does Pekka Rinne have for next season, and even beyond that. He kept the door wide open, per Brooks Bratten of the Nashville Predators official website:
"I want to take a little [time away from] the season and think about things with my family, and what do I want to do? Obviously, it's a thing that I'm thinking about a lot, but again, I'm not ready to make a decision yet."
I fully respect this answer from Rinne and appreciate the honesty. He's not out here making false promises to the fans and telling them what they want to hear.
This feeling from him is also completely understandable considering he still is chasing that elusive Stanley Cup. Claiming that will make him an undisputed Hall of Famer. Without one it's much more up-in-the-air.
Rinne has a lot of figure out with this decision, most importantly for his family. What happens on the ice is secondary, but I'm sure if the right team comes calling then he'll have to consider it.
We all want the answer right now, but it's going to require some patience. Perhaps we'll get more clarity in the next month.
The thoughts from the Captain
What Roman Josi said about his longtime teammate Mattias Ekholm was very interesting, and also nice to see. He showed his appreciation for how Ekholm stepped up his game through all of the adversity the team faced, per Justin Bradford's question of Penalty Box Radio:
In yesterday's end-of-season presser, I asked Roman Josi about what player he thought stepped up as a leader for the team given the ups and downs of the season. His answer: Mattias Ekholm.#Preds pic.twitter.com/lgyHhytDPg

— Justin Bradford (@justinbbradford) June 3, 2021
This is how Captain's lead not just on the ice, but off the ice. Josi is recognizing a fellow teammate and I found the response very genuine and what leaders say in those moments.
Ekholm is always been somewhat underrated on this team. The diehard Predators fans know how important he is to this team, and has always been, but to see Josi give that answer was one of the best quotes from all of the press conference.
This upcoming season is the final year on Ekholm's contract. We all hope he remains with the Predators for the long-term future as a second-pairing defenseman with either Alexandre Carrier or Dante Fabbro.
David Poile's remarks on lineup changes
Predators GM David Poile always gives very candid responses and leaves it all out there, unlike other general managers who can many times give you the runaround.
Poile's thoughts on how the lineup will change next season particularly stood out to me. Here's what he shared on that, per Thomas Willis of the Predators website:
"We don't know the changes yet, but it's safe to say there will be changes to our lineup for next season… We do now have an identity."
We kind of feel like this is just on repeat every season, so the frustration from fans is understood. But again, what do we expect him to say? Sure, he could just say, "This team is horrible and we're going to blow it all up", but that kind of brutal honesty just isn't going to happen.
I do like his openness about changing up the roster and giving new players a chance to earn their spot. We heard that last offseason as well and it took a rash of injuries to really see the youth injected into the lineup.
Maybe another season of getting ousted in the first round will force Poile's hand to make more significant changes.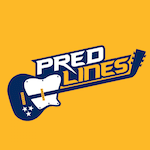 Forsberg and his possible new contract
I've always expected Filip Forsberg to retire a Nashville Predator. He's just one of those cornerstone players I don't ever see Poile let go, so it's refreshing to see that Forsberg is happy here:
#Preds forward Filip Forsberg says he's loved every minute of his time here in Nashville and doesn't see why he wouldn't love the future too. Forsberg, who has one more season left on his contract, says he expects to sit down and discuss re-signing with the Preds at some point.

— Brooks Bratten (@brooksbratten) June 2, 2021
The last thing we want to see is a toxic atmosphere be created within the organization, and it certainly seems to be the opposite of that here. We don't want a disgruntled star of the team.
Forsberg is entering the final year of his contract and will become an unrestricted free agents. Working out a new contract is one of my top offseason priorities for the team.
What the length and money of this contract will be is up for debate. I don't think he's earned elite money exactly, but another deal in the range of what he's making now is conceivable.
The Predators have something cooking with Tolvanen and Forsberg, and there's reason for excitement to see how that grows in 2021-22. Let's get a fair deal worked out for both sides and keep the happy relationship intact.
Final Thoughts
The end-of-season presser had mostly positive vibes, which might drive some fans crazy considering the team lost in the first round yet again.
But this season was different than the previous three seasons for me. This team was down for the count heading into March and came together to put on one hell of a run. They battled hard with the Carolina Hurricanes to get it to six games (four overtime games) and do have a lot to build off of.
There's still more questions than answers, which is to be expected. They're not going to make false promises or reveal things they don't know themselves.
Here's to hoping the players, coaches and front office get some much-needed time off and prepare for a new season where the team shows positive growth.