Predators Wrap-Up: Offseason Changes Are Already Happening
The NHL offseason is officially upon us. News from the Nashville Predators is starting to come out as they look to shake the roster up.
There's still no official start date for next season, but the Nashville Predators are making some noteworthy moves to get prepared.
The Predators are in a position now, roster-wise, that they haven't been in for quite some time.
Lots of announcements from the Predators are starting to come out in this shortened offseason as they try to stay relevant in the Western Conference.
Rough waters may be ahead for the team as they start trying to fill roster gaps with younger prospects.
Whether player or management initiated, free agency will cause us to see an exodus of four, possibly five, players.
Only after the NHL Draft takes place next week and the free agency period starts will we get a clearer picture of what the roster may look like when hockey resumes again.
This week we take a look at some free-agent departures, some recent contract signings, and a heartfelt video from our favorite goaltender.
Breaking Up Is Hard To Do
General Manager David Poile dropped a wealth of information on us when he announced the departure of four players that will become free agents and will no longer be with the team.
Craig Smith, Mikael Granlund, Korbinian Holzer, and Yannick Weber will not be returning to the Predators next season. Poile also announced that they were in negotiations with free agent Colin Blackwell, but the announcement didn't sound promising.
Predlines Site Expert Chad Minton wrote an excellent editorial on this announcement.
Of all of these departures, Smith will be the most missed by Predators fans everywhere. He has spent his whole career in Nashville and is known for his gritty play and work ethic.
Smith spent most of his time on the third line with Nick Bonino and Rocco Grimaldi. This line was the workhorse of the entire team and played well together.
We wish all these players good luck in the future. That's unless they land in Dallas or St. Louis.
"I want to keep all of my options open from free agency to trades, but ideally I'd like to do a lot of our improvements and changes in house."#Preds | #Smashvillehttps://t.co/JBBKKOmE7U

— Nashville Predators (@PredsNHL) September 29, 2020
The Youth Movement Begins
Poile also announced some recent player signings, proving that he wasn't kidding around when he said that he was looking at prospects more closely for the future.
Yakov Trenin, Michael McCarron, and prospect goaltender Devin Cooley all signed new contracts this week.
Trenin's signing is the most notable as this new deal all but guarantees him a roster spot in the NHL next season.
There was speculation that Trenin may be moving on from the Predators to play in Russia. His contract is a two-year, one-way deal worth $1.45M.
McCarron's new contract is a one-year, two-way deal worth $700,000 in the NHL and $300,000 at the AHL level.
Cooley's contract is a two-year, entry-level deal. Cooley recently spent three years as the goaltender for the University of Denver.
1 week, 3 signings.

Michael McCarron → https://t.co/7QMgkLZvk5

Yakov Trenin → https://t.co/vKAttroOvP

Devin Cooley → https://t.co/IjzMoQeQBP pic.twitter.com/Axj2BdPAfe

— Nashville Predators (@PredsNHL) September 30, 2020
Stanley Cup Champions
Congratulations to the Tampa Bay Lightning on their Stanley Cup victory.
The Lightning defeated the Dallas Stars in Game 6 to bring home the most coveted trophy in all of sports.
In true Predators, social media fashion, a heartfelt congratulations were offered.
In all seriousness, congratulations to Tampa Bay for a well-deserved win.
.@TBLightning pic.twitter.com/uECv17ZC7r

— Nashville Predators (@PredsNHL) September 29, 2020
Jos and Peks…BFF's 4 Life
With Roman Josi's recent Norris Trophy win came a surprise celebration in Bridgestone Arena for the Captain.
Several teammates and even tennis superstar Roger Federer sent videos, congratulating Josi on this considerable achievement.
Out of all of the played videos, Pekka Rinne's may have been the best one of them all.
Pekka + Jos = 💛 pic.twitter.com/OSONiLFgtM

— Nashville Predators (@PredsNHL) September 28, 2020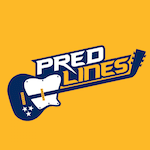 The Predators have an excellent social media team. They do a great job keeping the fans up to date on team news and what they are up to.
We expect more news from the team as we get closer to the draft and the free agency period. Changes are happening with the Predators, and we will bring you all of the news when it happens.