Nashville Predators Wrap-Up: Still Waiting For Next Season
Anticipation is building for next season as we move closer to the projected January 1 start date. We are all waiting to see how the new-look Nashville Predators will perform.
While there is no official news about next season's start date, there have been whispers on social media saying that the NHL, NHLPA, and the Return To Play committee have been meeting regularly. Good news for Nashville Predators fans who are anxious to see their team finally take the ice.
When we are usually a month and a half into the season at this point, we are still without a definitive start date or season length. Hopefully, this shortened season will get the NHL back on track to have a full hockey season beginning next October.
The NHL has said that they will do whatever it takes to get the regular schedule back on track. They are primarily motivated to make this happen due to the Seattle Kraken expansion team's impending arrival set for the 2021-22 season.
Once the season schedule is back on track, we can move on to the expansion draft, a regular NHL Entry Draft, and a normal free agency schedule.
One thing is for sure. Once hockey does return, this time away should give fans a deeper appreciation for hockey and sports in general.
The NHL did a great job with the playoffs last season and will undoubtedly present fans with a great product under these trying circumstances.
This week, we look at some new Predators jerseys, the arrival of a new Predator, and Philip Tomasino in the 2021 World Juniors.
#ReverseRetro
The NHL and Adidas released images of the league's new Reverse Retro alternate jerseys for the 2020-21 season. These jerseys will be worn by all 31 teams for a few games during the season and featured during rivalry games.
The Reverse Retro jerseys take a classic jersey from each team's past and give it a modern and updated look.
Reviews for the Predators Reverse Retro jersey are mixed. Some people love them, while others feel that the designers could have done more to update the classic 1998 Predators jersey.
Predlines Site Expert Chad Minton wrote an excellent editorial about the new jerseys.
What do you think of this new jersey? Let us know in the comments below.
F R E S H. #ReverseRetro https://t.co/YWWociuLGp

— Nashville Predators (@PredsNHL) November 17, 2020
Tomasino On Loan To Team Canada
On Tuesday, General Manager David Poile announced that the Predators had loaned Philip Tomasino to Team Canada for possible inclusion in the 2021 World Junior Championship.
Tomasino was one of 47 players invited to the camp, which kicks off on December 13th. The tournament is scheduled to being on Christmas day.
It would be safe to assume that Tomasino would get called back once the Predators' training camp begins, possibly around the middle of December. There has been lots of speculation that Tomasino could wind up on the Predators' roster once next season starts.
Check out Predlines Site Expert Chad Minton's article detailing Tomasino's loan to Team Canada.
Go @philtomasino26! #Preds | #WorldJuniors https://t.co/JBdpgbBFUw

— Nashville Predators (@PredsNHL) November 17, 2020
Borocop Arrives In Nashville
For the past few years, Predators fans have been clamoring for a more gritty style of play from their team. Guess what, folks? The grit has made its way to Nashville.
Mark Borowiecki has been posting to social media recently about his family's road trip move to Nashville. The trip from Ottawa to Nashville is 1,042 miles or 1677 kilometers, depending on your persuasion.
That's a long trip when you have a baby and your dogs in tow. Welcome to Nashville!
Boro has arrived. 😎 pic.twitter.com/UbkW8E0EJ8

— Nashville Predators (@PredsNHL) November 17, 2020
#ICYMI
In case you missed it, here is a round-up of some Predlines articles from this past week.
Make sure to sign up on our website to get the latest Predators news. Also, make sure to follow us on Twitter and Facebook.
Potential Division Realignment Gives No Relief to Nashville Predators
Philip Tomasino Getting Opportunity for Team Canada
Way-too-Early Offseason Power Rankings for the West
Nashville Predators Offseason: Quirky Thanksgiving Edition
Things to be Thankful for – Week 2- Our Captain
Thoughts on the New Reverse Retro Jersey from Adidas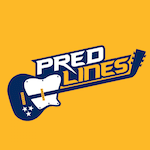 The Predators have an excellent social media team. They do a great job keeping the fans up to date on team news and what they are up to.
While the Predators offseason rolls along, the start of training camp and more concrete details on next season should be announced soon. Changes are happening with the Predators, and we will bring you all of the news when it happens.